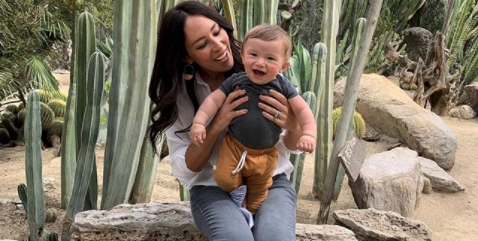 Chip and Joanna Gaines' son, Crew, celebrated his first birthday in June.
The former Fixer Upper stars' youngest also just took his first steps.
Proud dad Chip posted the news on Twitter.
---
Look out world, Crew Gaines is on the move!
Chip and Joanna Gaines' youngest is celebrating a major milestone—and no, we're not talking about his birthday (though his party was absolutely adorable). The sweet tot has just taken his first steps, and dad Chip could not be prouder.
The former Fixer Upper star and future network mogul shared the news on Twitter, writing, "Little crew took his 1st steps today.. It was a good day!"
The moment was captured with a photo of Crew and Chip with their arms outstretched toward each other. There's currently no video footage of the interaction, but we're keeping all our fingers crossed that Chip or Jo releases some soon.
Crew has been the star of the Gaines family since his birth last June. He's been his mom's best sidekick both at work at Magnolia Market and at her and Chip's farmhouse, which they share with their four older children, Drake, Ella, Duke, and Emmie Kay.
They've been enjoying little Crew so much, that they've even thought about adding another kid to the Gaines family. "Don't be surprised if No. 6 is in the cards!" Chip has said in the past. Regardless of if there's another Joanna pregnancy on the horizon, there's plenty of Chip and Jo goodness coming in the next few months.
For one, they're opening their coffee shop, Magnolia Press, this fall. Even more exciting, their new network will be here before we know it, and we're willing to bet Crew is a natural born TV star. Who knows—he'll probably be running, jumping, or fixing up houses by then!
Curl Up With Chip and Jo's Bestselling Books
Magnolia Table
The Magnolia Story
Capital Gaines
Chip and Joanna Gaines' Son Took His First Steps and the Photo Is Too Cute, Source:https://www.prevention.com/life/a28457283/chip-joanna-gaines-baby-crew-first-steps/