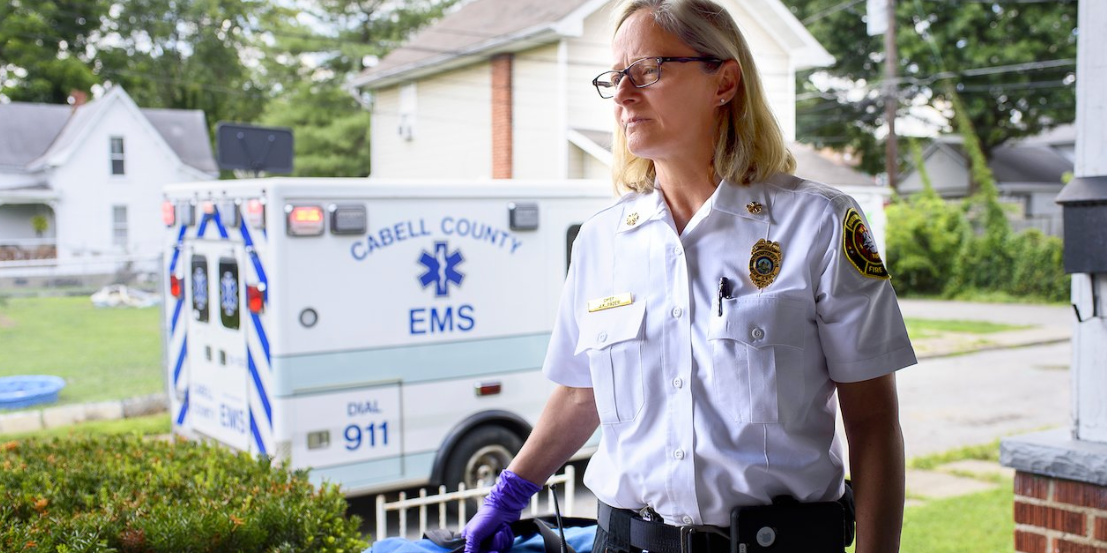 A Netflix marathon may not be the key to staying fit (unless you're watching while on the treadmill), but there's something to be said for feeding your mind as well. Get up to speed on the latest health research, trends, scandals, and more with these 15 fascinating health documentaries you can stream on Netflix right now.
1 Period. End of Sentence. (2018)
STREAM NOW
After a group of women from a small village in India were stigmatized for getting their periods, American high school students raised money and sent them a low-cost, biodegradable pad-making machine. The inspiring, 25-minute film won an Academy Award for Best Documentary Short this past February. "I can't believe a film about menstruation just won an Oscar!" 25-year-old filmmaker Rayka Zehtabchi said as she accepted the award. The Netflix documentary shows that, no matter your age or the distance between nations, you can make a real difference in the lives of others.

2 Take Your Pills (2018)
STREAM NOW
A widely controversial documentary, Take Your Pills explores the American stimulant industry in which children and adults are prescribed and issued medications like Adderall and Ritalin to not only treat conditions like ADHD, but also to keep people focused through long periods of work.
3 A User's Guide to Cheating Death (2017)
STREAM NOW
University of Alberta professor Timothy Allen Caulfield discusses how companies capitalize on people's eagerness to look and feel youthful with trendy wellness products, fad diets, cosmetic procedures, and more. Though Caulfield uses humor to expose marketing tactics aimed at keeping people young, this six-part documentary series is informative in diving into larger ethical concerns of the wellness and beauty industries.

4 Heroin(e) (2017)
STREAM NOW
This Oscar-nominated film documents the opioid epidemic encompassing West Virginia through the perspective of a fire chief, a judge, and a street missionary. Through hard-to-watch encounters between addicts and the heroines that try to help them, Heroin(e) sparks larger conversations about the ongoing opioid crisis in America.

5 The C Word (2016)
STREAM NOW
Just after she helped produce Michael Moore's award-winning health documentary Sicko, film producer Meghan LaFrance O'Hara was diagnosed with stage 3 breast cancer. In The C Word, O'Hara and French physician Steven Servan-Schreiber, MD, examine the connection among nutrition, stress, toxins, and cancer, drawing from her own experience.

6 Sustainable (2016)
STREAM NOW
A seventh-generation farmer from Illinois works with director Matt Wechsler to argue that the ways we are producing food as well as the type of foods we're eating in the U.S. are economically feasible short term solutions that may not sustainably fuel future generations. Wechsler wants to change the way food is produced in the U.S. by helping people reconnect to the food supply and encouraging everyone to shop locally.
7 Forks Over Knives (2011)
STREAM NOW
Forks Over Knives sets out to convince viewers to adopt a plant-based diet—and not necessarily for ethical reasons, but rather for health. The documentary focuses on research that indicates that the risk of developing some chronic illnesses like cancer, heart disease, and diabetes may be decreased by eliminating animal products from our diets. The film follows researchers in the field as well as everyday people who have had success switching to a whole-food, plant-based diet to cut dependence on pharmaceuticals and take control of their health. Even if you're not ready to swear off meat for good, this important documentary is worth a watch.
8 Icarus (2017)
STREAM NOW
Director Bryan Fogel embarked on this Academy Award-winning documentary with a simple premise: He would take performance-enhancing drugs and then compete in a renowned amateur cycling race, with the goal of proving how easy it is to get away with doping in the cycling world. But the end result proved much bigger than anticipated as Fogel and Russian scientist Dr. Grigory Rodchenkov end up blowing the whole lid off the state-sponsored Olympic doping scandal in Russia. It's a wild, entertaining, eye-opening ride.
9 The Truth About Alcohol (2016)
STREAM NOW
When the UK introduced new guidelines recommending less alcohol consumption for men (lowering it to six pints of beer a week, the same as recommended for women), British ER doc Javid Abdelmoneim set out to find—you guessed it—the truth about alcohol. In the funny yet informative documentary, he questions what prompted the change in guidelines, what the health risks (and possible benefits) of drinking are, why some folks get drunker faster, and more.
10 My Beautiful, Broken Brain (2014)
STREAM NOW
After 34-year-old Lotje Sodderland suffers a hemorrhagic stroke and undergoes emergency brain surgery, she is lucky to be alive. However, she suffers from aphasia, a language impairment that affects one's ability to speak, read, and write. Almost immediately, Sodderland begins filming herself to document her journey—not quite to recovery, but to learning how to live with her new normal. Co-produced by none other than David Lynch, award-winning My Beautiful, Broken Brain is a deeply personal look at the physical and emotional ramifications of sudden brain damage.
11 Unrest (2017)
STREAM NOW
This Sundance award-winning documentary shines a spotlight on chronic fatigue syndrome, a widely misunderstood disorder that causes extreme fatigue not related to any underlying medical condition. The film follows Jennifer Brea, a 28-year-old Harvard doctoral candidate who is left bedridden following a mysterious fever. When doctors tell her it's all in her head, Brea and her new husband, Omar, decide to film her struggles with CFS as she connects with fellow sufferers around the world—all without leaving her bed.
12 Cooked (2016)
STREAM NOW
Author and culinary crusader Michael Pollan is on a self-described mission to change the way people eat; however, he takes a balanced, rather than hysterical approach. He warns against factory farming but makes a case for eating ethically sourced meat, questions modern day bread production while pushing back about the widespread gluten free movement, and points a finger at misdirected government farm subsidies. The overarching idea behind this four-part documentary is that we all need to get into the kitchen and foster greater connections with our food to sustain both the environment and our health. If you enjoyed Pollan's earlier documentaries, In Defense of Food and Food, Inc., then definitely give this a watch.
13 Born Strong (2017)
STREAM NOW
Whether or not you're a fan of strongman competitions, Born Strong is an interesting and compelling watch. The documentary delves into the motivations behind those who compete (complete with force-feeding yourself over 10,000 calories a day and almost certainly shortening your life span) and delves into the lives and training of four legendary competitors in the 2015 Arnold Strongman competition (yes, Arnold Schwarzenegger makes an appearance). Ultimately, the documentary aims to highlight the drive and athletic achievement of these 400-pound competitors.
14 The Bleeding Edge (2017)
STREAM NOW
Described as "a searing exposé of the medical device industry," The Bleeding Edge questions whether the devices that are meant to be saving lives are, in fact, harming and even killing patients. Academy Award-nominated filmmakers Kirby Dick and Amy Ziering zero in on the lax regulations, FDA loopholes, and profit-oriented corporations that drive the $400 billion industry while sharing the heartbreaking stories of individuals who have been negatively impacted.
15 What the Health (2017)
STREAM NOW
If you have a friend who has recently gone vegan seemingly out of the blue, there's a good chance they've watched What the Health. The controversial documentary draws links between consuming animal proteins and getting cancer, type 2 diabetes, and generally poisoning us with toxins. Critics argue that the film's claims (i.e. eating eggs is as bad as smoking) are frenzied and overblown, while supporters say that there's nothing overblown about discussing the merits of a plant-based diet. Watch it and decide for yourself.
Everyone Should Watch These Eye-Opening Health Documentaries in 2019, Source:https://www.prevention.com/life/g25737172/netflix-health-documentaries/