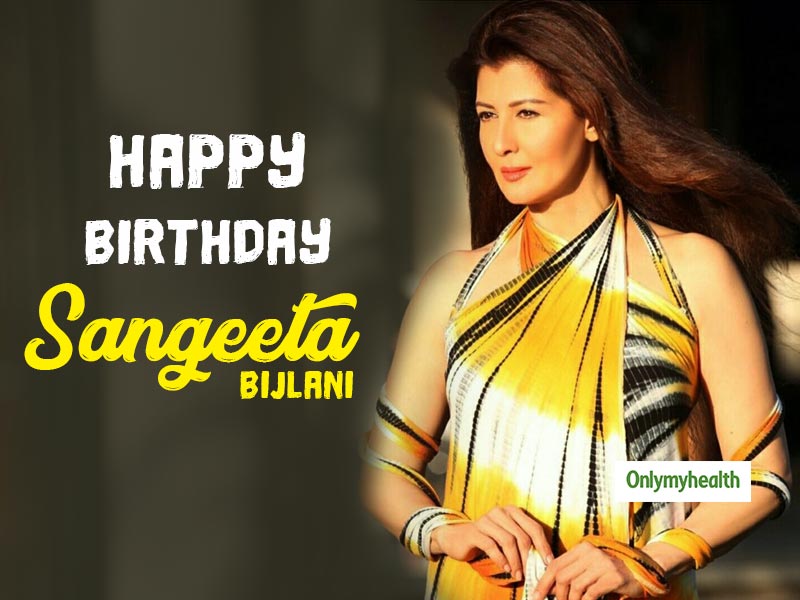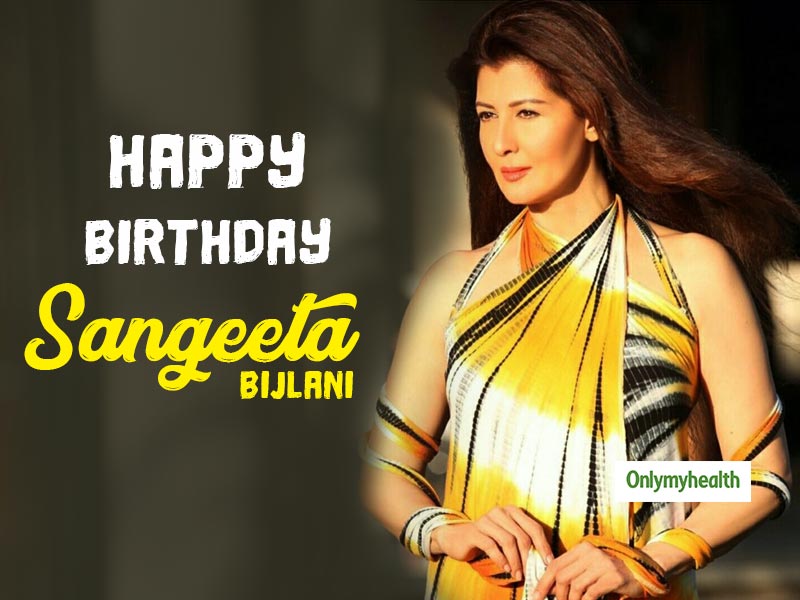 Sangeeta Bijlani turns 59 today and continues to capture hearts with her good looks and charm. An ardent fan of yoga and gym enthusiasts, she is a serious motivation for many to get up and hit the gym
Miss India in 1980, Sangeeta Bijlani turns 59 and looks nothing close to her age. Born on July 9, Sangeeta gives important fitness goals to many girls out there. A yummy mummy and a fitness lover, she ensures to have a natural glow on her face by working out regularly. This beauty queen has had a glorious history by winning the Best National Costume award at the Miss Universe pageant held in Seoul. She made her Bollywood debut with Qatil and went on to do remarkable films like Hathyar, Tridev and Lakshman Rekha. Despite being away from the movie buzz for years, she continues to be extremely active on her social media profiles, giving out fitness goals through her inspiring workout videos. 
A thorough believer in relationships and love, she once in her interview, "We are human beings and love and is what we all need and believe in. Every energy is not about physical intimacy. It is all about the chemical reactions taking place in the brains. As for me, I love spending time with myself."
Yoga for Fitness 
She is known for her glowing skin and a stunning body for which she loves doing yoga. She shared in one of her interviews," I work out a lot and never miss it even a single day. Also, I keep a check on what I eat and what I should eat. I also love to meditate as it is said to slow the process of ageing." It was also reported that Salman Khan had personally started giving fitness training to his ex-flame Sangeeta Bijlani. Now, close family friends, Sangeeta has very high regards for his friend Salman Khan. In today's time, Sangeeta Bijlani can give women half her age a run for their money. This recently-turned blogger now shares her fitness and relationships secrets with the world through her well-though blog. Sangeeta also likes doing pilates. 
View this post on Instagram

On International Yoga Day I would like to say that if there is one thing you can do for yourself, purely and selfishly then it's time you considered Yoga. It will be the most profound investment you can ever make. Yoga is like music.... the Rhythm of your body, the Melody of the mind and the Harmony of the Soul which creates the symphony of Life. Yoga #meditation are the most important practices in my life and it has helped me tremendously and transformed me in every way. The Soul of India is Yoga. And yet very few even make an attempt to practice it. Once you start your Yoga practice then things like Weight loss, Self healing, Accepting others, Accepting life, Good health, Anti ageing, Mindfulness, Alignment of the Mind Body and Soul, Happy and Healthy life are all a consequence of the whole process. "Yoga is not the shape of your body, it is the shape of your life. Yoga is not to be performed, it is to be lived. Yoga has been a way of life for me for many years and I hope you all can experience it too. #internationalyogaday2019 #natrajasana #mindbodysouljourney #goodhealthandhappiness #yoga #soulofindia #changesyourlifeforever #bijlistrikes #sangeetabijlani

A post shared by Sangeeta Bijlani (@sangeetabijlani9) onJun 21, 2019 at 12:08am PDT
Also Read: Huma Qureshi's 28 Days Detox Diet Plan: Here's The Fitness Mantra Of The Actress
Apart from yoga, she even follows a mixed exercise routine of cardio, weight training, etc. Also though she is not a very big fan of gymming, she ensures to exercise every day, without giving it a miss. 
Sangeeta Bijlani Diet 
Sangeeta is a pure vegetarian and ensures to supplement her diet with all the required nutrients. She divides her meals into five portions, spacing it out throughout the day. This star knows how to stay in shape and eats rice only once a week. Her breakfast is primarily a brown bread sandwich and some milk after which she heads for a workout. Her lunches are all about wheat bran rotis and essential vegetables. She avoids greasy and oily food. Her dinners are about soya atta rotis and soups and salads as a variation.  
She has a minimum of 4 litres of water every day to supplement her diet and to keep her skin healthy and glowing. 
Also Read: Padmavat Actor's Workout, Training and Diet Plans Revealed
Sangeeta Bijlani Skincare
Sangeeta is known for her glowing skin despite climbing up the age ladder. She looks every bit young and is an inspiration for flawless skin to many. She follows ab everyday cleansing and eating healthy regime, all of which reflects on her skin. She also said in one of her interviews that her daily makeup look is very minimalistic and ensures to use a protective layer before applying any makeup on the skin. 
View this post on Instagram

Years back my Daddy said something very precious and beautiful to me ......"What are you afraid of losing when nothing in the world actually belongs to you" Of all the teachings and spiritual knowledge that I received from my Father, this one is "The Most Important Lesson I Learnt": He said nothing in this world belongs to you my dearest daughter, all that you have and all that you shall receive from this world, be it material things, be it money, be it fame, be it relationships, be it talent and creativity, be it knowledge, be it love, you have to share and give it all back to the world because you came with nothing and you will leave with nothing. These words I will always hold dearly as it changed my life forever and instantly freed me from everything. Today I felt like sharing these precious words with you all 🤗❤️ #preciouswordsoflife #lessonsfrommydaddy #nothingbelongstoyou #spiritualknowledge #lessonsoflife #shareeverything #givebacktotheworld #blessed #ingratitude

A post shared by Sangeeta Bijlani (@sangeetabijlani9) onJun 30, 2019 at 4:55am PDT
Read more articles on Fitness and Exercise 

Written by: Vani Malik
Source: Onlymyhealth editorial team Jul 09, 2019
Happy Birthday Sangeeta Bijlani: The Oye-Oye Star's Fitness Regime Is An Inspiration For Women Half Her Age, Source:https://www.onlymyhealth.com/happy-birthday-sangeeta-bijlani-the-oye-oye-star-s-fitness-regime-is-an-inspiration-for-women-half-her-age-1562655708