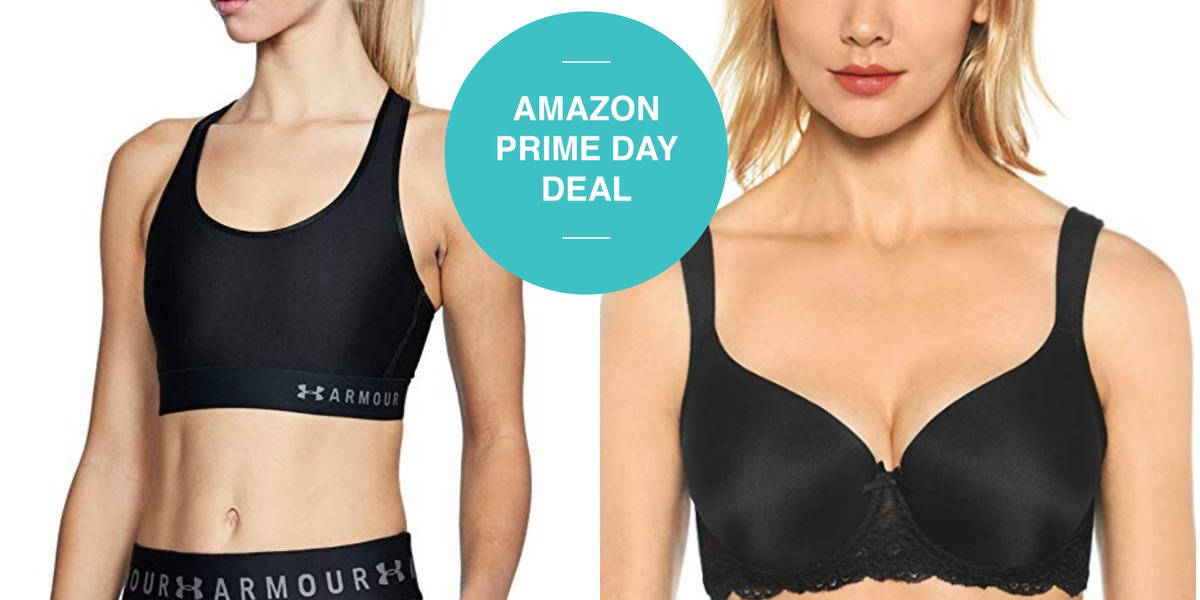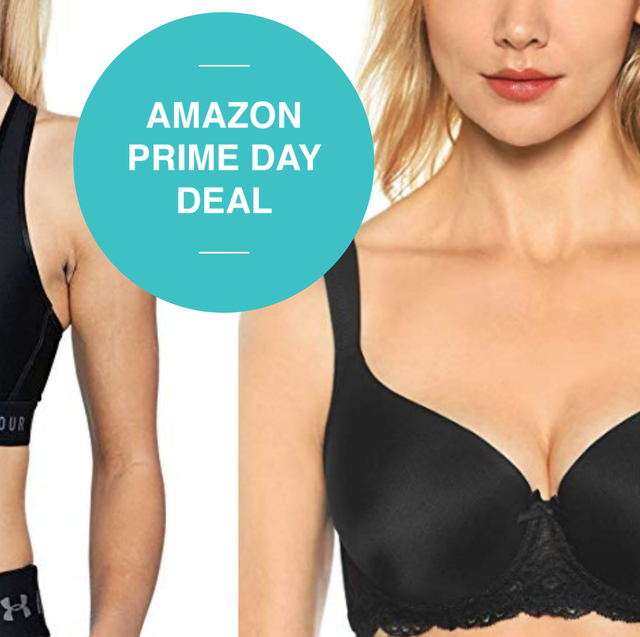 Amazon
If you've been blessed with an ample bust, it can come with some...hassles. Shaving your legs, for example, without getting blitzed by a wrecking ball. Well, today is your lucky day because Amazon wants to keep the ladies in CHECK for Prime Day. Ahead you'll find discounts on all types of bras—underwire, wireless, racerback, and more—up to size DDD.
Advertisement - Continue Reading Below
1
30% OFF
Under Armour Women's Mid Keyhole Sports Bra
Under Armour
amazon.com
$28.00
Amazon reviewers love this bra for its comfortable fit. Note that many say it's best for low-impact workouts. One purchaser says: "This bra is comfortable, supportive, easy to put on and take off, and washes up to look like new. The ventilation is great." 

2
20% OFF
Gnowann Women's Underwire Padded Bra
Gnowann
amazon.com
$24.99
This demi-cup bra with extra wide straps gets five stars from 85% of Amazon reviewers. One says, "The bra is one of the most comfortable bras I've had. The size is perfectly true to size."
3
20% OFF
Aibrou High Neck Sports Bra Womens Yoga Sports Bra
Aibrou
amazon.com
$15.99
The mesh lining along the back of this low-impact sports bra makes it extra breathable. It's also available in coral pink, black, and white. "Very well made," says one customer. "Some things after they are washed are not the same but this washes well & keeps its shape."
4
20% OFF
Silicone Backless Push-Up Drawstring Bra
NISONG
amazon.com
$18.99
Made to wear with a backless or low-cut dress, this adhesive bra will keep the ladies in line throughout the night. "This is such a great value. You get three different options for different types of garments," says one reviewer. 
5
20% OFF
Curve Muse 3-Pack Unlined Semi-Sheer Bra
Curve Muse
amazon.com
$43.99
These lace bras are made to wear daily. One reviewer says: "Finally! And unlined bra that is actually supportive! And the underwire stays put and does not slide up underneath the armpit when I reach for something or twist around. No more having to constantly pull the underwire part back to under my arms, or worse, reach down into my bra and reposition my breasts." 
6
20% OFF
QUEENIEKE Light Support Double-T Back Wirefree Sports Bra
QUEENIEKE
amazon.com
$18.99
Another great option for low-impact workouts, this sports bra comes in several bright colors as well as neutrals. One Amazon reviewer says: "I absolutely LOVE this sports bra! It is more supportive than I expected, but still light weight. It is so comfortable, it doesn't dig into my back or under my boobs like some sports bras." 
7
40% OFF
Hands Free Pumping Bra
PACASSO
amazon.com
$29.99
$19.99 (33% off)
If you're a new mom or soon-to-be mom, consider this breastfeeding bra from Pacasso. "As a first time mom, I read reviews to save time when ordering products," says one reviewer. "I was skeptical because there weren't a ton of great reviews, but I'm SO glad I took a chance. This bra is great. The material is soft, and the velcro in the back makes it fully adjustable creating a wonderful custom fit. They even threw in some reusable breast pads, which always come in handy." 
8
20% OFF
Curve Muse Semi-Sheer Balconette Lace Bra
Curve Muse
amazon.com
$43.99
Another three-in-one deal, these pretty lace bras with a scalloped hemline work for even large busts. One Amazon reviewer says: "I own 9 of these bras. They are so pretty and comfortable. I have always worn the wrong size bra as nobody carried a DDD cup and wearing the right size makes all the difference in the world."
9
20% OFF
Hedy & Vivian Lace Unlined Underwire Bra
Hedy&Vivian
amazon.com
$12.99
If you want a full coverage bra that still makes you feel sexy, this is a pretty sure bet. Note that there aren't many reviews on this option yet, so if you like it, be sure to leave one! 
10
30% OFF
Sticky Bra Nipple Covers
IMPRINTNATION
amazon.com
$19.99
Another great option for backless and low-cut dresses, these nipple covers can also be washed by hand and reused. One reviewer says: "The best bra of this kind I have used so far. Super soft and comfy. Didn't leave a sticky residue on the tots. Pull them up to lift as much as you'd like! Love that I can rinse them with soap and water and they still manage to keep their adhesiveness. I wrapped mine individually with Saran plastic wrap for keeping."
11
25% OFF
Fimage Ultra Thin Wireless Bra
Fimage
amazon.com
$32.99
This is the perfect everyday bra, made with silk and available in more than a dozen colors. 
Advertisement - Continue Reading Below
PRIME DAY DEAL: Up to 40% Off Top-Rated Bras on Amazon, Source:https://www.prevention.com/beauty/style/g28381022/amazon-prime-day-bras-for-big-busts/