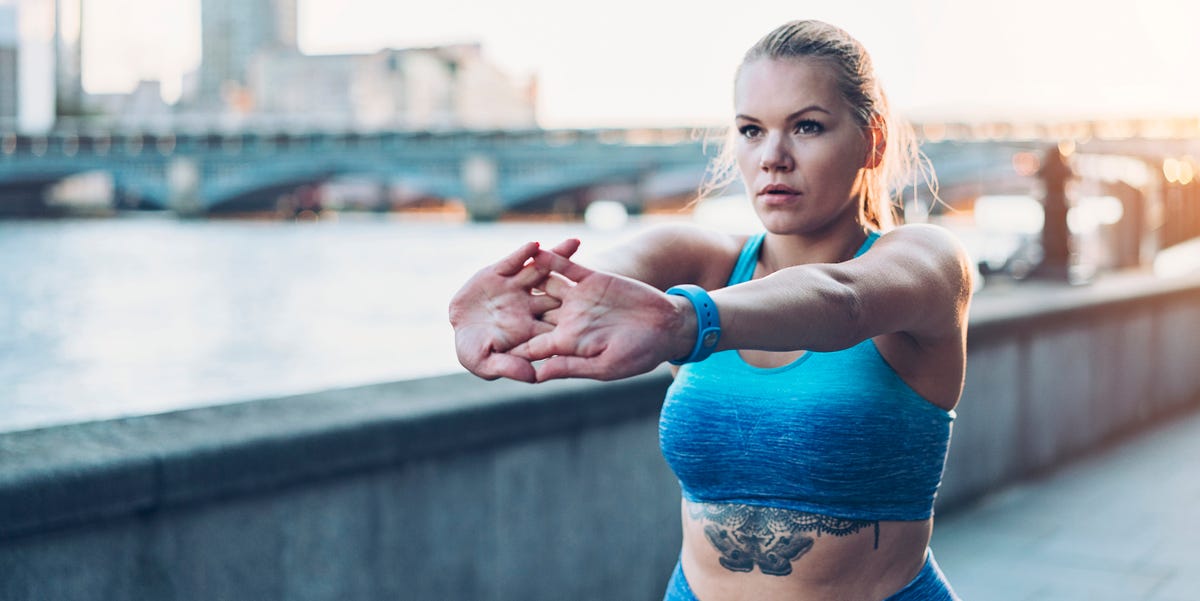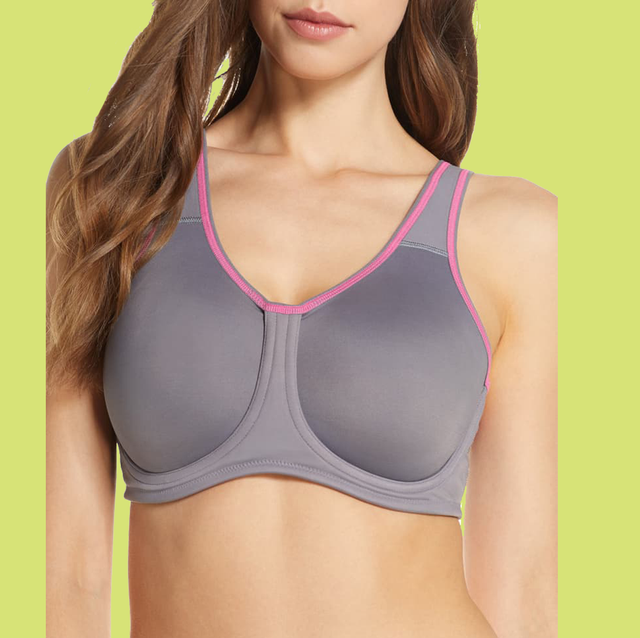 Nordstrom
If an unsupportive sports bra has ever made you wish you skipped your trip to the gym, you're definitely not alone. There are few things more debilitating during a workout than realizing that your girls aren't locked and loaded. In fact, nearly one in five women say their breasts prevent them from participating in physical activity, according to research published in the Journal of Physical Activity & Health. The survey of 249 women found that not being able to find the right sports bra and being embarrassed by breast movement were the two biggest barriers to breaking a sweat.
Not only do bouncing boobs make working out a challenge, but all that commotion can be downright painful. "Larger chested women will see larger amounts of breast movement than their smaller breasted counterparts," says Michelle Norris, PhD, a senior researcher of sport and exercise science at the University of Portsmouth. "There is reason to believe that with inadequate external support over the long term, these ligaments and skin may become damaged or stretched, which could possibly lead to breast sag overtime."
How to find supportive sports bras for large breasts
There are three major things ladies with bigger breasts should look for in a sports bra: fit, support, and comfort. In execution, this can look different for each woman, Norris says. Some women may like adjustable straps and back-clasps, but others might be fine with an over-the-head pick. Finding specific sizing like your day-to-day lingerie (i.e. 36C, 38DD) can make for a more customized fit, but if you feel comfortable with a size medium, large, or extra large, then that's fine too. But no matter your preference, large-chested ladies should look for a substantial bottom band to provide that extra oomph and some sort of cups that enclose all the breast tissue so that there's no gaping or bulging.
"It is a misconception with many women that the shoulder straps provide the main support, however it is the underband which is of most importance," she says. "A well-fitted underband should act as a shelf for the breasts to sit on, with the straps then providing additional support and maintaining the sports bra in the right position."
While they may be challenging to find, there are great sports bra options out there, and we've done the work to find them. Strap in, and get back out there with these editor-approved picks.
Advertisement - Continue Reading Below
1
Best Overall
Underwire Sports Bra
Wacoal
nordstrom.com
$65.00
Sizes: 32C to 40G
This sports bra is a game-changer when it comes to all-around comfort. Perfect for everything from a brisk walk to Zumba, we love the bra's underwire-on-the-outside—which offers maximum control without the rub. It's no wonder that more than 1,000 Nordstrom customers give it a nearly perfect 5-star rating. One Nordstrom reviewer says, "I've tried many different sports bras, trying to find the one that keeps my large breasts secure when riding and competing on horses. This bra is the only one I've found that keeps the girls contained."
2
Best for Running
Juno High-Impact Sports Bra
Brooks
amazon.com
$65.00
$49.95 (23% off)
Sizes: 34B to 40DD
You get the fit you want and the support you crave with this sports bra. The adjustable straps, which keep weight off your shoulders and help reduce bounce, are located in the front so you can easily customize the fit. Lightweight "unicups" provide additional support and shape. One 32DD tester said, "I love the racer-back style; it kept the girls in check during both hiking and running."
3
Best for Water Workouts
Workout to Waves Mesh Panel Sports Bra
Spanx
nordstrom.com
$58.00
Sizes: X-Small to X-Large

This sports bra doubles as a swimsuit top when you want to hit the pool or catch some waves after a workout. It has a built-in cradle and adjustable straps for extra support, as well as a bottom band that helps keep your girls in place. The other great feature is it's chlorine- and salt water-resistant, so you don't have to worry about it getting damaged. 
4
Best for HIIT Workouts
Plus Size Sports Bra
Glamorise
amazon.com
$61.99
$48.40 (22% off)
Sizes: 32D to 40B

The straps and back are adjustable, so you can shorten or lengthen if the bust line sags. There are also double layer cups for lift and separation. To ensure your breasts don't overflow, it's recommended you choose one cup size larger than you're usual one. Another win: It's available in five different color combos so there's a different style for every taste. 
One Amazon reviewer raves, "As big busted women know, the sports bra is judged based on if a woman can jump or not. It has been years since I have been able to jump without feeling like the girls were going to rip off my chest. Jumping jacks, jump rope, and running are all possible now. Bless this sports bra."
5
Best for Cardio Workouts
Gravity Contour Underwire Sports Bra
Natori
nordstrom.com
$69.00
Sizes: 30B to 38C

 Whether you're biking or doing a dance cardio workout, you'll get the support of two sports bras in one with this special design. It's built with moisture-wicking fabric, memory foam straps, and a wide elastic bottom so it fits comfortably and helps you keep you dry. What's more, there are breathable mesh cutouts on the sides to prevent you from overheating. 
6
Best for Yoga and Pilates
Mid-Impact Unlined Sport Bra
Le Mystere amazon.com
Not only does this sweat-wicking bra have adjustable straps and a compression fit that will make you feel snug and secure, but it also has two separate cups to keep your girls extra comfortable. The mid-impact underwire support is ideal for yoga and Pilates and will keep everything in place while you move from tree pose to downward dog.
7
Best Push-Up Sports Bra
Underwire Sports Bra
Freya
amazon.com
$61.87
Sizes: 34B to 36H
Those big girls could use a lift every now and again. This style keeps them secure while also providing some perk, perfect for those days you want to run errands immediately after spin class. not convinced? An Amazon reviewer says, "I tried jumping up and down in front of a mirror (just to see how much 'bounce' there was) and while there was movement, it was minimal. The support and protection was extraordinary. "
8
Best for Petites
Women's Underwire Sports Bra
Panache
amazon.com
$70.00
Sizes: 28D to 36HH
This is an excellent pick for petite women with ample cup sizes. It's comfortable, supportive, and comes in an array of fun colors. With ventilated mesh panels at the shoulders and bust, you'll be able to keep your cool during even the steamiest workout. One of our 32DD testers said, "This bra has a great look and fit; the wide straps and band kept me in place during all of my walks and runs."
9
Best Value
Comfort Full Support Sports Bra
Champion
amazon.com
$48.00
$32.02 (33% off)
Sizes: 34C to 40DD
For any woman with a big bust, adjustable straps and a flexible underband are a must, and this sports bra checks these boxes and much more. The gel-infused straps help keep you cool and provide support and comfort, while the mesh panels offer targeted ventilation around your chest. For a more custom fit that feels great, there's a hook and eye closure in the back. 
10 Epic Underwire Crop Top Sports Bra
Freya
nordstrom.com
$72.00
Sizes: 30E to 38FF
Freya is a brand that prides itself in creating lingerie, swimwear, and sportswear ranging from a B to a K cup. This sports bra is designed with  a J-hook in the back that allows you to adjust the straps into a racerback for more support. It also features spacer-foam cups for a push-up effect that keeps your boobs in place. One Nordstrom reviewer who wears a 36F swears by this bra: "It doesn't get sopping wet and in fact prevents the underboob wet stripe. I appreciate the padding. It provides modesty, but it doesn't overheat, thanks to the perforated lining. I've worn it running, boxing, and various other activities, and it keeps everything in place."
11 Fusion Sports Bra
Zella Body
nordstrom.com
$39.00
Sizes: X-Small to Large
Complete with a compression fit and a high neck, this bounce-controlling sports bra is great for women with large busts. The cutout halter back was designed with performance in mind, keeping you cool and your girls in place. A Nordstrom reviewer says, "I'm a 34D and the medium worked well. I can actually get away with doing a high-impact workout and only wear one sports bra. I used to layer two or three. This will be my new go-to!"
12 StabilityX Bra
CW-X
amazon.com
$59.95
Sizes: 36D to 40DD
This higher neck design with breast encapsulation was made with larger-chested women in mind. Complete with compressing mesh that gives targeted support to breasts during all types of activity, it also has a fully adjustable back and shoulder hook-clasp closure. An Amazon reviewer says, "I'm a 36D. I've had this sports bra for a couple of years now and it's pretty much the only one I use for running, martial arts or any high-impact activities."
13 Racerback Sports Bras
MIRITY Women
amazon.com
$22.99
Sizes: 34A - 44DD
According to Amazon reviewers, this highly rated sports bra is perfect for women with large breasts who love to do high-impact workouts, like running and HIIT. Thanks to its removable padding inserts and wire-free racerback design, your girls will get ample support and comfort. It's also made with moisture-wicking material so soaks up sweat and keeps you dry. 
14 High-Impact Sports Bra
Enell
amazon.com
$60.00
Sizes: 32C to 52G
If you feel like it's a workout to squeeze, pull, and tug your bra over your head alone, then this bra is a dream come true. This underwire-free (read: struggle-free) winner with front clasps holds up to activity without creating back bulge while doing activities like yoga or interval training. Just make sure you take a second to understand their brand-specific sizing, which requires each wearer to measure both their bust (across the center of the breast) and ribs.
15 Power Bra
New Balance
newbalance.com
$59.99
Sizes: 32B to 38D
A little mesh never hurt nobody. This flirty style, complete with mesh front and center, is both flattering and functional. The New Balance technology helps to push sweat away from the body and toward the surface of the garment for rapid evaporation, while the thick bottom band and cups support the chest and minimize bounce. 
Advertisement - Continue Reading Below
These Are the Most Supportive Sports Bras for Women With Big Boobs, Source:https://www.prevention.com/fitness/workout-clothes-gear/g22117349/best-sports-bras-for-large-breasts/