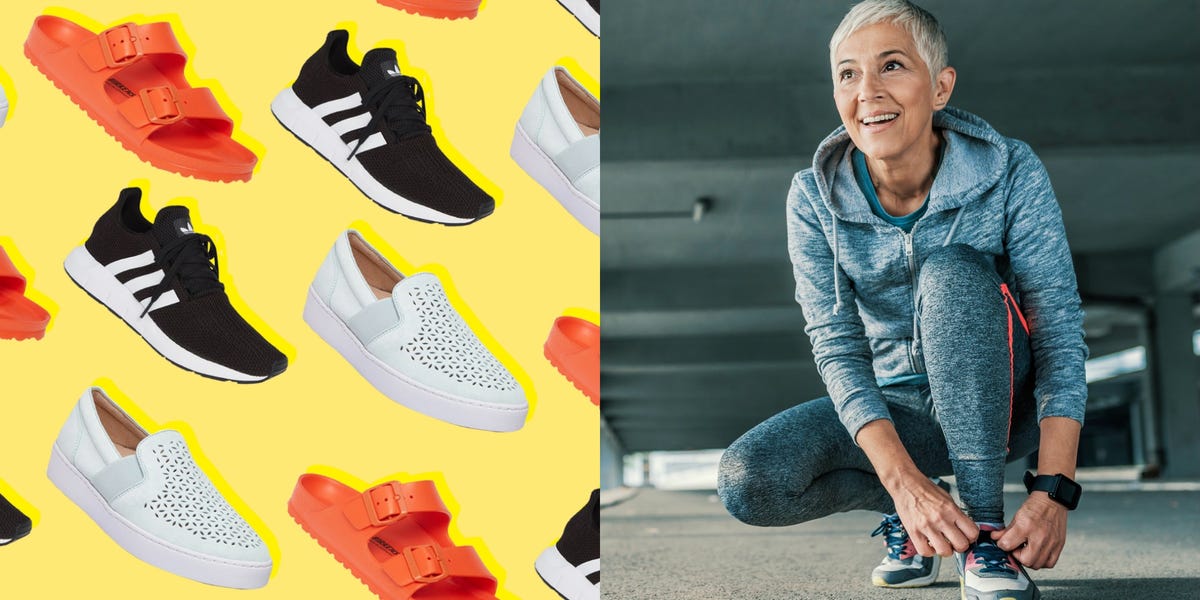 If you have bunions, you know the pain at the base of your big toe can be impossible to ignore. Wearing shoes that are just the slightest bit too tight or made from a stiff material can be enough to cause total agony.
What causes bunions, exactly?
Bunions can be brought on by a variety of factors, including genetics, inflammatory joint diseases, foot injuries, and arthritis. According to the Cleveland Clinic, bunions form when the bone or tissue at the bottom of the big toe moves out of place. Abnormal movements and heavy pressure on the joint forces the big toe to bend toward the other toes, causing a lump to form on the joint. Wearing shoes that irritate bunions won't just make them hurt more, but they'll also cause other problems, including blisters, arthritis, and bursitis.
"Feet, by design, are not padded with a lot of extra fat," says Howard Friedman, DPM, of Suffern Podiatry in New York. "So if someone wears a shoe that is creating a pressure point over a bony area, the skin will become red and inflamed, and in some cases cause a blister or wound that can become infected."
So while you may be tempted to keep wearing your favorite kicks, you should take anything that irritates your feet out of rotation and replace them with something that's more supportive and comfortable.
How to shop the best shoes for bunions
Your bunions will find solace in shoes with a wide toe box, made from materials with a bit of give, like soft leather or fabric, says Friedman. "The widest point of your foot should correspond with the widest part of the shoe," says Karen Langone, DPM, a podiatrist based in Southampton, New York.
Paul Langer, DPM, a sports medicine podiatrist who trains athletes at Twin Cities Orthopedics in Minneapolis, Minnesota and is a SuperFeet wellness panel member, also says that choosing shoes to minimize bunion pain comes down to design and construction. "As you would imagine, selecting a shoe to minimize bunion pain regardless of style requires a wider toe box and softer upper materials, such as leather or soft fabric," Dr. Langer says. "High heels increase pressure on the bunion as well so lower heels will help minimize pain," he adds.
He also recommends that people with bunions do some strengthening exercises that activate the small muscles of the feet, using toe stretchers or separators. "Toe spacers, which go between the first and second toes, can also help keep the toe straighter, which can reduce pain as well," Dr. Langer says.
But what you want to avoid are shoes that are too narrow or too small. Matt Gooch, MS, C.Ped, director of product and innovation with Superfeet Worldwide, Inc., says, "Wearing shoes that are misfit is a leading factor in the development of bunions. Once you have a bunion, they often make your forefoot wider than it was originally. So being even more aware of how tight shoes fit around the ball of your foot is essential."
That said, Dr. Langer says the best way to find shoes for bunions is to try them on and see how you feel in them. "Comfort is so personal and subjective. It is best to be able to try on as many shoes as needed to find best option for you," he says.
It may seem like your options within those parameters are limited or orthopedic-looking, but there are actually plenty of bunion-friendly shoes that are anything but. From everyday boots and colorful flats to sexy heels and wedges, here are some of our favorite podiatrist-approved pairs.
Best Overall
Arizona Slide Sandal
Birkenstock
nordstrom.com
$39.95
The great thing about Birkenstocks? The widest part of the sandal aligns perfectly with where bunions show up. Dr. Langer says Birkenstocks are one of the better options for bunions because they have a natural foot shape. One Nordstrom reviewer says, "I'm obsessed with these sandals! The price point cannot be beat and they are so comfortable."
Best Running Shoes
Torin IQ
Altra Footwear
zappos.com
$219.95
Arguably Altra's best running shoe, Torin IQs are perfect for people with bunions because of their wide, rounded toe box and generous cushioning. In fact, the platform is designed to help you run more efficiently because it forces you to align the body, balancing your weight when landing. 
These shoes also allow you to track how well you're running through the Altra IQ App. Yes, your shoes sync to an app so you can see live stats as you're pounding pavement. It's no wonder why Jeff Dengate, runner-in-chief of Runner's World, recommends the Torin. 
Best Walking Shoes
Abbot Luxe Platform Sneaker
Dr. Scholl's
nordstrom.com
$88.95
Built with a trendy platform cupsole, these sneakers provide ample cushioning and are perfect for casual wear. They're made to comfort your toes, balls of the feet, and heels. They also have a removable insole if you want to use your own inserts, as well as a flexible leather upper. 
Best Slip-Ons
Kani Slip-on Sneaker
Vionic
vionicshoes.com
$129.95
A favorite of podiatrists and Prevention readers, Vionic shoes cradle your foot in an ideal position to avoid bunion pain. Soft, breathable leather and a cushioned footbed make these ideal for running errands or travel that requires a lot of walking.
Best Heels
Teresa Platform Pump
Naturalizer
nordstrom.com
$98.95
Made with a wide, rounded toe box, these heels allow your feet to fit comfortably without any pain. It also has a contoured, cushioned footbed for extra support on your arches and heels. The leather upper is soft and flexible so you won't feel constricted. A Nordstrom reviewer says, "Very comfortable, chic heel. The toe box is wide enough that it does not squish your toes yet still looks modern. The platform makes the higher heel more tolerable."
Best Booties
'Valli' Waterproof Bootie
Blondo
nordstrom.com
$99.90
Thanks to these waterproof ankle boots, you'll look good even when it rains. They're designed with textured soles for extra traction, have a low block heel to help you stabilize, and are fashioned with a comfortable footbed for all-day comfort. The wide, rounded toe box also makes it a great pick. 
Best Wedges
Lisa Low Wedge
Gentle Souls
amazon.com
$155.00
Gentle Souls is Kenneth Cole's line of comfortable, podiatrist-friendly shoes for women. Jocelyn of New York City lives with bunions says she likes these wedges for their soft memory foam footbed and low heel. Amazon customers with other foot issues also give these shoes a thumbs up: "I have had a broken ankle with residual damage, and I am very picky about my shoes. These look elegant without being too tall. Love the ballet straps. I get so many compliments and I can wear them all day."
Best Flats
Fenja 01 Flats
Josef Seibel
zappos.com
$114.95
Dr. Friedman recommends these stylish slip-ons to her patients with bunions because they have a wide, cushioned toe bed and are made from soft and supple leather. They're pretty much perfect for all-day wear. The best part is, they come in a variety of vibrant colors so you can have a pair to match everything in your closet.
Riviera Strappy Sandal
Paul Green
nordstrom.com
$329.00
While on the pricier side, Paul Green's heels are great for bunions because they have soft, flexible straps and have a supportive footbed. We like that they also have a sturdy block heel and platform for extra stability and to decrease pressure on your toes.
Ghost 11
Brooks
zappos.com
$99.95
The Ghost 11 running shoes from Brooks are constructed with lightweight material and more cushioning in the arches and heels to help offload pressure on the toes and bunions. "I have bunions and very few shoes feel comfortable but these do!" says a Zappos customer. "Lots of toe room and very cushiony inside. They run small, so I went a half size to a 7.5. I usually wear a 7."
Brenda Wedge Sandal
Steve Madden
nordstrom.com
$89.95
We love the shimmery, metallic straps on these stylish sandals. They feature a wide open toe and a soft, supportive footbed with adjustable straps to help reduce pressure on your feet. A Nordstrom customer can attest to their greatness: "Very stylish sport sandal. I was looking for something with a little less height, but the footbed was so squishy and soft that I had to keep them." 
Flax Birdseye
Rothy's
rothys.com
$125.00
If you're looking for flats with a little more sophistication, Rothy's makes incredibly supportive and stylish ballet-inspired shoes. These flax flats have a round toe and are designed with a soft neutral fabric. A Rothy's customer couldn't agree more: "They are amazing. The flax color goes with everything. I am on my feet all day and they never get tight, hot, or uncomfortable. They don't rub on my bunion."
Swift Run Sneaker
Adidas
nordstrom.com
$85.00
These Adidas sneakers were made for running, but they fit the bill for all types of activities. They have a stretchy, sock-like upper, while giving your toes room to breathe. They also have a soft, cushiony footbed and a durable outsole to help protect your toes from shock and relieve pressure. A Nordstrom customer says, "I absolutely love these shoes! They look so clean and feel like I'm walking on a cloud." 
Best Men's Shoes for Bunions
Best Dress Shoes
Warren Cap Toe Derby
Cole Haan
nordstrom.com
$129.90
If you're looking for a new pair of shoes for the office or a fancy wedding, these sophisticated derbies are made with a smooth, soft leather and a super supportive footbed. Plus, they have a wider toe box than other men's dress shoes, making them ideal for bunions. 
Best Loafers
Classic Moc II Venetian Loafer
Ecco
nordstrom.com
$99.90
Minimalists will appreciate the clean and simple design of these everyday loafers. Designed with comfort in mind, these shoes will help keep your feet fresh and dry throughout the day. The best part is they have removable insoles to accommodate wider feet. A Nordstrom reviewer says, "Bought these for my husband in black and he loves them so much I just bought the brown. Comfortable, yet good looking loafers for business or casual."
Best Boat Shoes
Authentic Original Cross Boat Shoe
Sperry
nordstrom.com
$59.90
Whether you're running errands or attending a casual birthday party, these boat shoes are great for any occasion. They feature a hand-sewn moccasin construction that makes them flexible and comfortable. Plus, they have a super supportive footbed to relieve pressure from your arches and heels. 
Best Training Shoes
Free X Metcon 2 Training shoe
Nike
nordstrom.com
$89.90
You'll feel like an all-star athlete once you slip into these versatile and supportive cross training shoes. They have a soft, breathable sock-fit upper and a removable cushioned insole. A Nordstrom reviewer says, "I'm using these for a variety of training situations, from lifting to interval training. The shoes are stable enough to handle lifts and kettlebell training, but flexible enough for intervals and quick, short runs." 

People With Bunions Love These Podiatrist-Approved Comfy Shoes, Source:https://www.prevention.com/beauty/style/g19599046/best-shoes-for-bunions/