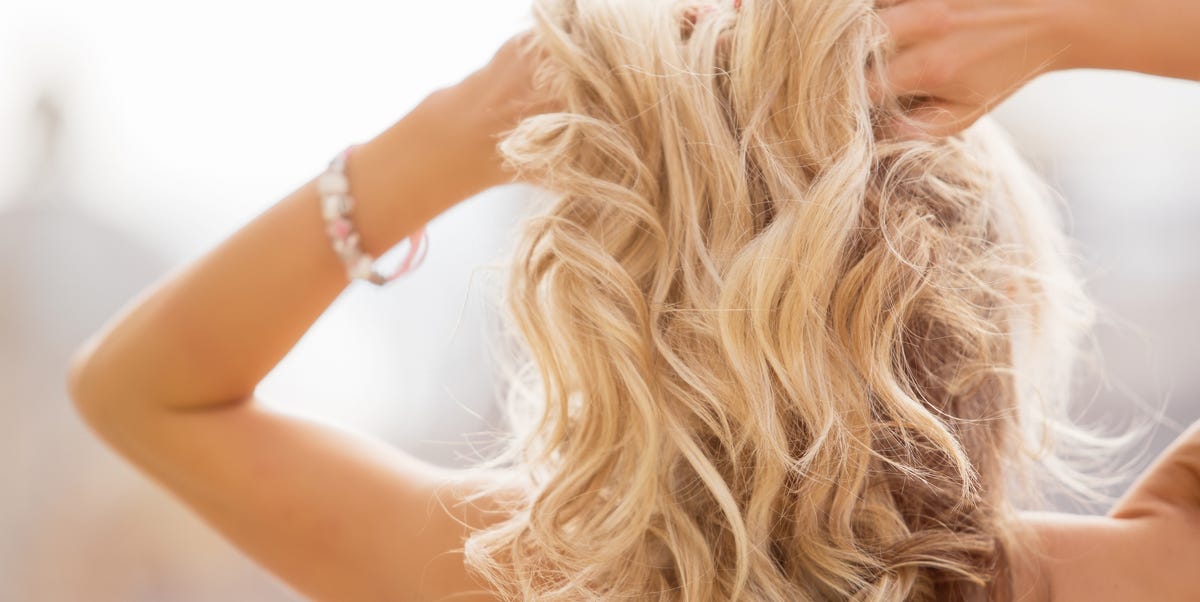 In an ideal world, we all have shampoo commercial-worthy hair. But in reality, sometimes it's more straw-like, scorched, or full of frizz. And if those are the problems you're dealing with, your real issue may be dry hair.
While curly hair types are more susceptible to lack of moisture, "dry hair mostly results from lifestyle factors," says Jennifer Herrmann, MD, a board-certified dermatologist in Beverly Hills. The top culprits include heat and chemicals. Think: certain hair dyes, overuse of clarifying shampoos, heat damage from blow-outs and styling, or over-processing with keratin treatments.
Heat damages your hair because it cooks it, says Dr. Herrmann. "Natural water in hair can turn to steam, creating bubbles in the hair shaft, which damages the cuticle, the outer protective coating that keeps hair strong and resilient," she explains.
Chemicals can also damage this cuticle while simultaneously stripping your hair of natural oils that are crucial for hydration. And while processing treatments can make hair appear sleek, they actually "break chemical bonds in the hair when trying to 'straighten' it," Dr. Herrmann explains. "Over time, this can not only lead to severely dry and damaged hair, but also scarring and permanent hair loss."
Your best bet to beat dry hair? Use styling tools infrequently, avoid dying it lighter than one shade lighter compared to your natural color, and wear a hat to protect strands from UV damage, Dr. Herrmann recommends. Your shower routine makes a difference, too. Lathering up a great shampoo can do wonders for your locks, but your conditioner will be the real MVP in bringing moisture back to your strands—enhancing softness and smoothness in the process.
How to choose (and use) the best deep conditioner for your hair
Look for dimethicone: This is one ingredient you don't want to miss on the label. "Dimethicone decreases static electricity, increases shine, and enhances hair flexibility, making it easier to style," says Dr. Herrmann. Other hydrating ingredients to scan for: Shea butter, jojoba, argan, and coconut oils, aloe vera, and glycerin.
Keep it to the ends: It's logical to think that if you have dry hair, you should apply conditioner from root to end, but Dr. Hermann recommends focusing on ends only. "Applying it to the scalp can make hair 'greasier' faster, leading to over-washing," she says. Over-washing can lead to over-drying, repeating the cycle.
Expand your horizons: Don't just stick with traditional conditioners that wash out of hair. You may also benefit from leave-in treatments, like conditioning sprays and moisturizing masks.
Not sure where to start? We talked to hair stylists to round up the best deep conditioners out there. Smoother, sleeker, shinier strands await!
1
BEST OVERALL
Nutritive Masquintense Thick Hair Mask
Kérastase
sephora.com
$53.00
Sometimes your hair needs an extra boost, and that's when you should reach for a hydrating hair mask, like the Kérastase Nutritive Mask, says Lucy Garcia Planck, a hair stylist based in New York and Miami. Added lipids and polymers "leave your hair looking shiny, not dry and brittle," she says.
2
BEST VALUE
Sleek & Shine Conditioner
Garnier Fructis
amazon.com
$2.99
At just around $3, Garnier Fructis Sleek & Shine Conditioner is a total steal. Even better: Moroccan argan oil smooths away frizz, locks out humidity, and increases shine.
3
RAVE REVIEWS
Elvive Extraordinary Oil Rapid Reviver Deep Conditioner
L'Oreal Paris
amazon.com
$4.97
This affordable deep conditioner comes packed with camellia and sunflower oils to create silkier strands. Testers rave about its ability to repair damaged hair, soften any coarseness, and boost volume. "Love this product," one Amazon reviewer wrote. "It leaves my hair truly soft and manageable."
4
BEST EVERYDAY DEEP CONDITIONER
Humectress Moisture Conditioner
Nexxus
ulta.com
$29.99
Nexxus Humectress Moisture Conditioner is formulated with dimethicone, keratin, and wheat protein to fortify strands and replenish hair's protective barrier. Let this sink in for three minutes in the shower daily.
5
BEST FOR FRIZZ
Tokyo Perfect Smooth Conditioner
NatureLab
amazon.com
$14.00
When taming frizz is in order, celebrity hair stylist Andrew Fitzsimons recommends NatureLab Tokyo Perfect Smooth Conditioner. "It contains a blend of argan, baobab, and marula oils, which deeply penetrate the hair strands to provide long-lasting moisture," he says.
6
BEST FOR DRY, CURLY HAIR
Raw Shea Butter Deep Treatment Masque
Shea Moisture
amazon.com
$8.99
If you're working with extremely dry, thick, or textured hair, SheaMoisture has you covered with this deep conditioning mask. Enriched with shea butter, glycerin, argan and avocado oils, and vitamin E, your lackluster locks will practically drink this up as a nourishing treatment that leaves dry hair looking smooth, hydrated, and healthy.
7
BEST LEAVE-IN FOR CURLS
Original Leave-In Condish
Miss Jessie's
walmart.com
$11.00
For thick, dry, curly hair, Miss Jessie's Leave in Condish—which packs moisturizing soybean and aloe vera—is a must, says Fitzsimons. "This is a conditioner and detangler that leaves your curls soft and shiny without adding weight or buildup," he says.
8
BEST FOR DAMAGED HAIR
Resistance Ciment Anti-Usure Conditioner
Kérastase
sephora.com
$34.00
Scorched strands need some serious hydration—and a focus on damage repair. "I love Keratase Ciment Anti-Usure Resistance Conditioner, which contains pro-keratin, a protein that mimics the function of keratin and rebuilds hair," says Fitzsimons.
9
BEST DEEP CONDITIONING SPRAY
Professional Vitamino Color 10-in-1 Leave-In Spray
L'Oreal Paris
amazon.com
$17.99
Keep strands plump with moisture after getting a coloring treatment with coconut-fortified L'Oreal Professional Vitamino Color 10-in-1 Leave-In Spray. Carlo Novoa, owner of Novoa Atelier in Beverly Hills says it's a must-have for preventing dryness and damage. "Not only does it provide heat production, but it adds softness without weight, shine, detangles, and provides protection from breakage, frizz, and split ends," he says.
10
BEST FOR COLOR-TREATED HAIR
dry remedy Moisturizing Conditioner
AVEDA
nordstrom.com
$32.00
Buriti oil is the star hydrator in this conditioner. And while you'll love your newfound soft hair (it'll also safely preserve your color), you'll really appreciate the amazing botanical scent, courtesy of bergamot, lavender, and ginger lily.
11
BEST FOR FINE HAIR
Sheer Volume 3 Minute Miracle Deep Conditioner
Pantene
amazon.com
$14.37
Working with finer strands? This deep conditioner will bring hair back to life without flattening it further. Simply work it through the hair, focusing on the ends first, and let it work its magic for three minutes. The result: Bouncy, full hair that looks smoother and stronger.

12 Extreme Conditioner
Redken
walmart.com
$13.39
Proteins, amino acids, and silicones combine in Redken Extreme Conditioner to tackle hair's weak spots, especially if you're dealing with dry, brittle, damaged hair. The result: A lightweight sheen that never feels weighed down.
13 Ultimate Reset Conditioner
shu uemura
sephora.com
$58.00
When hair seems beyond repair, try Shu Uemura Ultimate Reset Conditioner, which nourishes locks from the inside out, says Garcia Planck. The conditioner taps Japanese-sourced rice extract to fortify parched strands.
14 Don't Despair, Repair! Deep Conditioning Mask
BRIOGEO
nordstrom.com
$36.00
This deep conditioning mask turns to the power of B-vitamins, rosehip and argan oils, aloe vera, and keratin to restore over-processed hair that feels brittle. Better yet? The formula is free of sulfates, silicones, and parabens.
Dry, Damaged Hair? It's Time to Start Using a Deep Conditioner, Source:https://www.prevention.com/beauty/hair/g29231317/best-deep-conditioner/