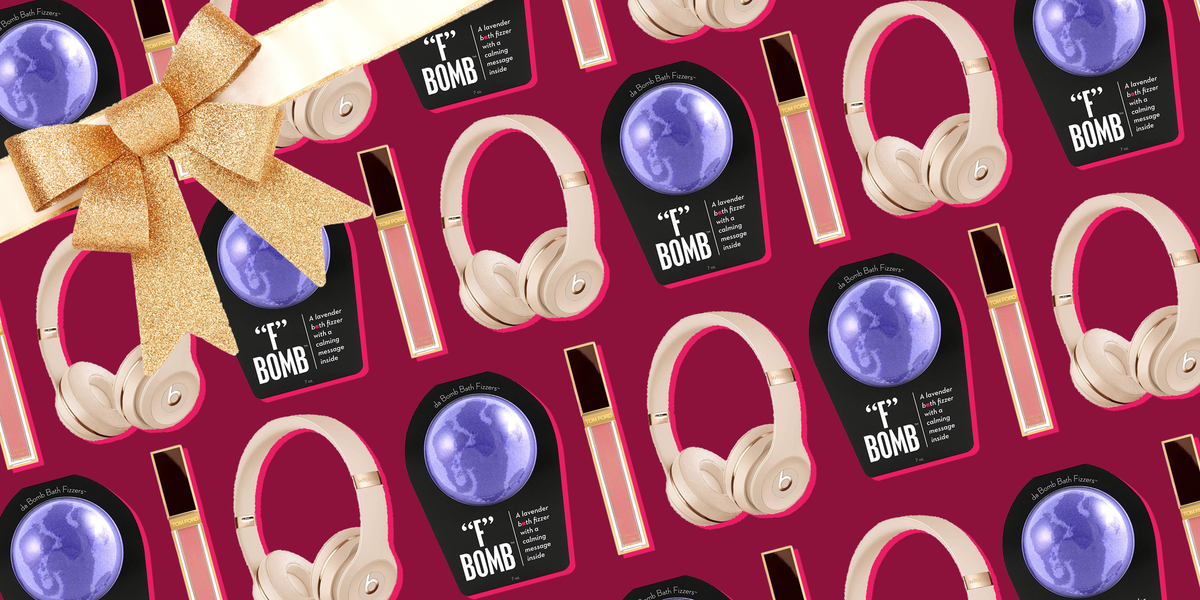 One trope about teens is that they are impossible to please. Another is that they think everything their parents do is painfully uncool. While this may or may not describe your daughter, knowing what to gift her for the holidays can be tough no matter what. Should you stalk her Instagram likes? Ask her friends? Take the fun out of everything and just ask for a list? The answer to all of those questions is a resounding: maybe. But if you want to go the traditional route and figure it out for yourself, more power to you, and we've got some ideas that should serve as ample inspiration for your shopping endeavors—and might also turn out to be the perfect thing you didn't even know you were looking for.
1 AIEBAO Pearl Headbands (set of 3)
AIEBAO
amazon.com
$9.99
Statement headbands are back in a big way, and Blair Waldorf (if you don't know who that is, look it up immediately) would definitely approve of these velvet ones which are topped off with tons of little pearls. Xoxo.
2 Birthstone Mineral Soap
AnjoulBliss
etsy.com
$33.00
This trio of soaps is on target for the Instagram age. Choose the one that aligns with your darling daughter's birthstone. Your purchase also comes with a booklet of information about the properties of the birthstone minerals and their respective scents.
3 Face Sheet Masks (set of 12)
Look At Me
amazon.com
$18.99
No doubt your teenage daughter has the skin of a, um, teenage girl, so she is a long time away from concerning herself with eye wrinkle cream. But these cute sheet masks, which feature illustrations of adorable animals, are geared toward moisturizing. So we say: Let her have at it! 
4 Polaroid Snap Instant Digital Camera
Polaroid
amazon.com
$84.98
Yes, kids still stick pictures on the insides of their lockers—that is, when they have them printed out, which your daughter will once she gets going with this camera. It's like instant gratification without Instagram. Don't forget to include lots of film in her stocking!
5 Cirque Colors Metallic Nail Polish
Cirque Colors
amazon.com
$14.00
Vegan, cruelty-free, and non-toxic, Cirque polishes come in a wide variety of colors. But we have to admit: We're partial to the multi-mix glitter, called "druzy," and would put money on that being your daughter's pick, too.
6 Tulip One-step Tie-Dye Kit
Tulip One-step Tie-Dye
amazon.com
$17.95
Yes, everything old is new again and that also applies to tie-dye. This easy, one-step kit is perfect for slumber parties but also for turning all of her white socks into a fashion statement. Nice one, Mom.
7 Black Hole™ Ultralight Mini Belt Bag
PATAGONIA
nordstrom.com
$29.00
Yes, fanny packs are also cool again. Whether she wears it hiking, to class, or to the mall with friends (hahahaha malls!) it's a handy way to keep her phone in reach that also happens to be super trendy right now.
8 Phone Camera Lens Kit
Mikikin
amazon.com
$29.99
You may never get a look at her finsta. But you will see her phone photography game reach new heights with this cool lens, which transforms a smartphone into a camera capable of telephoto, high def, and fisheye, and wide angle shots. Rad, right?
9 "F" Bomb Bath Bomb
Da Bomb
amazon.com
$7.50
$4.99 (33% off)
This is one "f bomb" she should be allowed to drop—straight into the bathtub, because that's the actual name of this product. Meant to soothe frustration though not specifically teen angst, reviewers say it's a fit for sensitive skin.
10 Beats Solo3 Wireless On-Ear Headphones
Beats
amazon.com
$199.95
She's pretending she can't hear you anyway so you might as well give her noise canceling as an excuse. These over-ear headphones are also ideal for listening to classical music while studying as well as silencing her younger brother's drum practice cacophony. Pick a cute color!
11 Personalized Jewelry Box
LisaAngelLtd
etsy.com
$38.87
Just pick between white and grey and add her name to the lid and you've got yourself a pragmatic but also very special present: This jewelry box literally has a spot for everything, from easily tangled necklace chains to earrings and bracelets.
12 Amped & Co Flamingo Neon Desk Light
Amped & Co
amazon.com
$69.99
Her bedroom is her sanctuary and all of her clothes are on the floor because she likes them that way. Lay off, Dad! But seriously: Maybe she'll be more inclined to keep things neat if it's cute in there. This neon desk light, in the shape of a flamingo, might do the trick.
13 Hanging Photo Display with Wood Stars
Mkono
amazon.com
$12.99
"OMG cutttteeee" —what all her friends are going to say when they see this photo display situation hanging in her bedroom. (Also file under: preferable to her sticking tape to the walls.)
14 Squiggle Stud Earrings
BooandBooFactory
etsy.com
$32.00
Statement earrings a la the 1980s are super in right now. This rainbow pair from indie designer Boo and Boo Factory in Chicago are funky fresh. (Hint: That's a good thing.)
15 Fenix Faux Leather Moto Jacket
FREE PEOPLE
nordstrom.com
$198.00
This bomber will make her think you're the bomb.com. (Do kids still say that?) Made from vegan leather, it's a classic piece you can feel good about gifting.
16 Fuzz Yeah Genuine Shearling Slipper
UGG
nordstrom.com
$66.96
Just accept that fact that you will never understand why people are so obsessed with UGGs. And if your daughter already has a pair of the classic boots in her closet, adding this new slipper style to the mix will just double her delight. (Our pick? The purple pair.)
17 Tom Ford Gloss Luxe Moisturizing Lipgloss
TOM FORD
nordstrom.com
$55.00
When in doubt, go the small but fancy route. This gloss comes in a wide range of gorgeous colors and also happens to fantastically moisturizing, too.
18 Slipsilk™ Pink Marble Pure Silk Pillowcase
SLIP FOR BEAUTY SLEEP
nordstrom.com
$85.00
While a silky pillowcase has the obvious effect of just feeling luxurious—like staying in a very high-end boutique hotel—but it actually has real benefits in the way of fewer hair snarls. Plus, the pink pattern is oh-so pretty! 
19 Featherweight Folding Compact Hair Dryer with Dual Voltage
T3
nordstrom.com
$119.99
Here's one way to cut down on the time she spends hogging the bathroom mirror in the mornings: This small but mighty blow-dryer works fast and efficiently—meaning she can finish her hair faster before school. (At least, in theory.)
20 La Tulipe Eau de Parfum Rollerball
BYREDO
nordstrom.com
$78.00
With hints of freesia, rhubarb, and cyclamen, this fragrance is sophisticated and feminine without being overpowering. The roller-ball application also makes it a breeze to apply.
21 Pacifica Trinket Tray
ANTHROPOLOGIE
nordstrom.com
$18.00
Ideal for a bedside table, this sweet little catchall is the perfect spot to put jewelry, AirPods, or other stuff she might be wont to lose track of. Plus, the tropical details are undeniably chic!
22 Cashmere Hat with Fur Pompom
GemKnitDesign
etsy.com
$52.24
The cashmere knit is luxe while the pompon keeps things festive and cute: the ultimate win-win headwear dynamic.
23 Toni Check Coat
TOPSHOP
nordstrom.com
$170.00
Mid-calf length and double breasted with rows of gold buttons, this coat is a modern spin on a classic shape. Fully lined and fabricated with a bold tan and black plaid outer print, it's got #ootd written all over it.
24 Set of 12 Stud & Huggie Earrings
BP.
nordstrom.com
$14.98
Give her the gift of multiple options with this stylish set of studs and hoops. All the designs are trendy but subtle. Somewhere among them, she's sure to find a favorite pair.
25 Lip Smacker Original Flavors Party Pack
Lip Smacker
amazon.com
$8.99
Another retro pick you might even remember from your own youth, this Lip Smackers set comes with all the original favorite flavors like tropical punch and cotton candy. (Warning: The most challenging part of this present is hiding the pack you buy for yourself.)
26 20 Mochi Mini Squishies
MOMOTOYS
amazon.com
$27.99
$17.99 (36% off)
Have you heard of the term "cute aggression"? It's the reason we want to squeeze things we think are adorable, which is the best part about these squishy Japanese toy set, which comes with a variety of pudgy little animals your daughter can poke and pinch to heart's desire. 
27 Custom Leather Travel Notebook
PhoenixLeatherShop
etsy.com
$49.50
Prepare yourself because we're about to get a little sappy: Every young woman needs a place to write down her hopes, goals, and dreams—and no, the Notes app on her phone doesn't count. This lovely journal can be personalized with her name or initials and also features a spot for a writing utensil.
28 Beaded Clutch Bag
TalaCollections
etsy.com
$60.73
This stunning piece is something she'll wind up hanging onto forever—while always remembering that it came from you. Made by a designer in Greece, it's a gift you're going to want to order early. It's also designed to fit all the essentials: wallet, phone, and keys.
29 30 Rolls of Gold Foil Washi Tape
AfaTAPE
amazon.com
$19.99
$13.99 (30% off)
If you can't stop your daughter from taping things to the walls, then you might as well give her the tools to make it pretty without damaging the paint. This 30-pack of Washi tape rolls, all of which feature cute prints and illustrations, is just kitschy enough to be super cool. She'll definitely find plenty of ways to put this prime stocking stuffer pick to use!
30 Print Brushed Jersey Pajamas
KATE SPADE NEW YORK
nordstrom.com
$78.00
These cozy PJs come in several cute prints. Bonus: She'll be the best dressed guest at her next slumber party. 
31 Black Peony Waterproof Laptop
DACHEE
amazon.com
$50.00
$20.99 (58% off)
At this point in life, her laptop might be the most expensive thing she owns. Help her keep it safe and in good shape with a case that she'll actually want to carry around. This one is waterproof, padded, and comes with a convenient shoulder strap. It's also available in a variety of cute prints, though we'll admit we're mad about the black peony.
31 Best Holidays Gifts for Teenage Girls in 2019, Source:https://www.prevention.com/life/g29518657/gifts-for-teenage-girls/