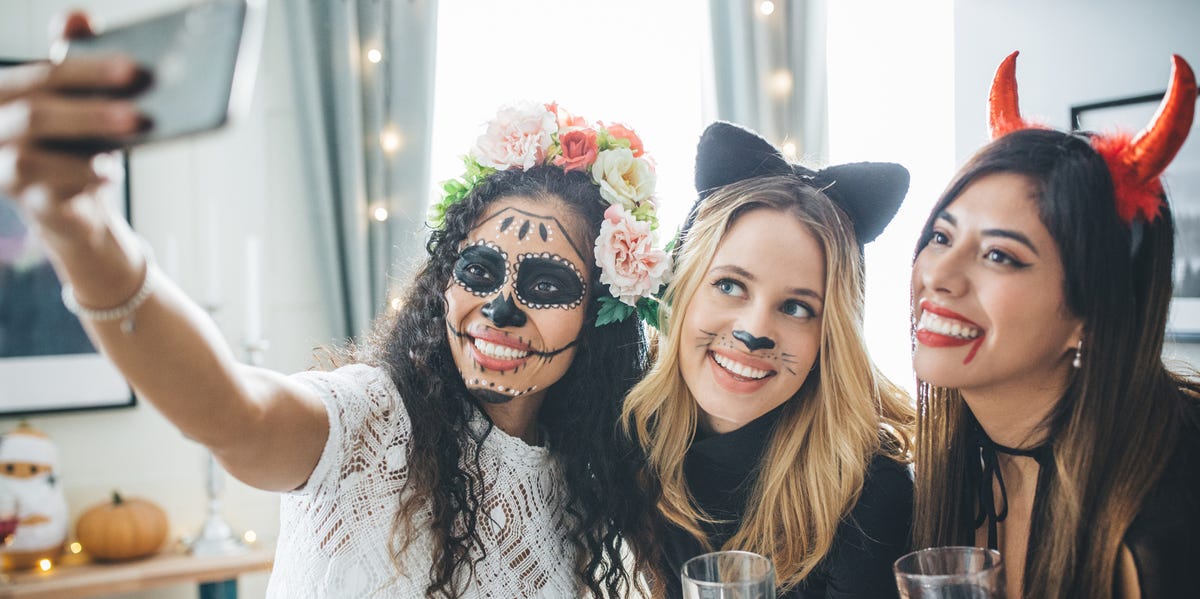 After spending all of your precious time—and money—putting together the perfect Halloween costume, of course you'll want to post it on social media to show the world just how much you nailed it this year.
The only problem? You have to think of a caption, which we all know can be the most stressful part of getting that perfect 'gram. The good news is that Halloween allows for endless puns, whether you're going for cute, funny, basic, or inspired by your favorite spooky songs and films.
We've done the hard work for you and put together the best Halloween caption ideas on the internet, so you can focus on trick-or-treating, snacking on candy, and enjoying the holiday with friends and family. Here are the best Halloween captions for your Instagram.
Funny Halloween Captions
This witch likes wine.
Creepin' it real!
Squad Ghouls.
Haunt messes.
With the boo crew.
Resting witch face.
Keep calm and scare on.
Bad to the bone.
Fangs for the memories.
Let's get spooky.
Having a bloody good time.
He's a handsome little devil.
Basic witch.
Wow, you're jacked!
Who run the world? Ghouls.
Cute Captions
Happy Howl-oween!
Spooktacular.
Have a fa-boo-lous Halloween!
Cutest pumpkins in the patch.
No tricks, just lots of treats!
Keep calm and scare on.
Had a fang-tastic night.
I put a spell on you, and now you're mine.
I'm just here for the boos.
Hanging with my ghoulfriends.
Double, double toil and trouble!
Let's give 'em pumpkin to talk about.
Pumpkin spice and everything nice.
Ghostest with the mostest.
With the boo crew.
Captions Inspired by Spooky Movies
"It's just a bunch of hocus pocus!" —Hocus Pocus

"Magic is really very simple, all you've got to do is want something and then let yourself have it." —Halloweentown
"Get in, loser. We're going haunting." —Mean Girls
"I'm a ghost with the most, babe." —Beetlejuice
"Whatever you do, don't fall asleep." —A Nightmare On Elm Street
"There's only 365 days left until next Halloween!" —The Nightmare Before Christmas
"It's a full moon tonight. That's when all the weirdos are out." — Hocus Pocus
"You're a little scary sometimes, you know that? Brilliant ... but scary," —Harry Potter and the Sorcerer's Stone
"Be afraid. Be very afraid." —The Fly
"I see dead people." —The Sixth Sense

Halloween Captions Based on Songs
"You will always be my boo." — Usher and Alicia Keys, "My Boo"
"Ghouls just wanna have fun!" —Cyndi Lauper, "Girls Just Want to Have Fun"
"Who you gonna call?" — Ray Parker Jr., "Ghostbusters"
"I'm sweet but I'm psycho." —Ava Max, "Sweet But Psycho"
"Cause this is thriller. Thriller night." —Michael Jackson, "Thriller"
"I'm on the highway to hell. Highway to hell." —AC/DC, "Highway to Hell"
"Scary monsters, super creeps keep me running, running scared." —David Bowie, "Scary Monsters And Super Creeps"
"This is Halloween, everybody make a scene." —Marilyn Manson, "This Is Halloween"
"I put a spell on you." —John Debney, "I Put A Spell On You"
"When you believe in things that you don't understand, then you suffer." Stevie Wonder, "Superstition"
---
Like what you just read? You'll love our magazine! Go here to subscribe. Don't miss a thing by downloading Apple News here and following Prevention. Oh, and we're on Instagram too.
50 Best Captions for Your Halloween Instagram, Source:https://www.prevention.com/life/a29653971/best-halloween-captions/