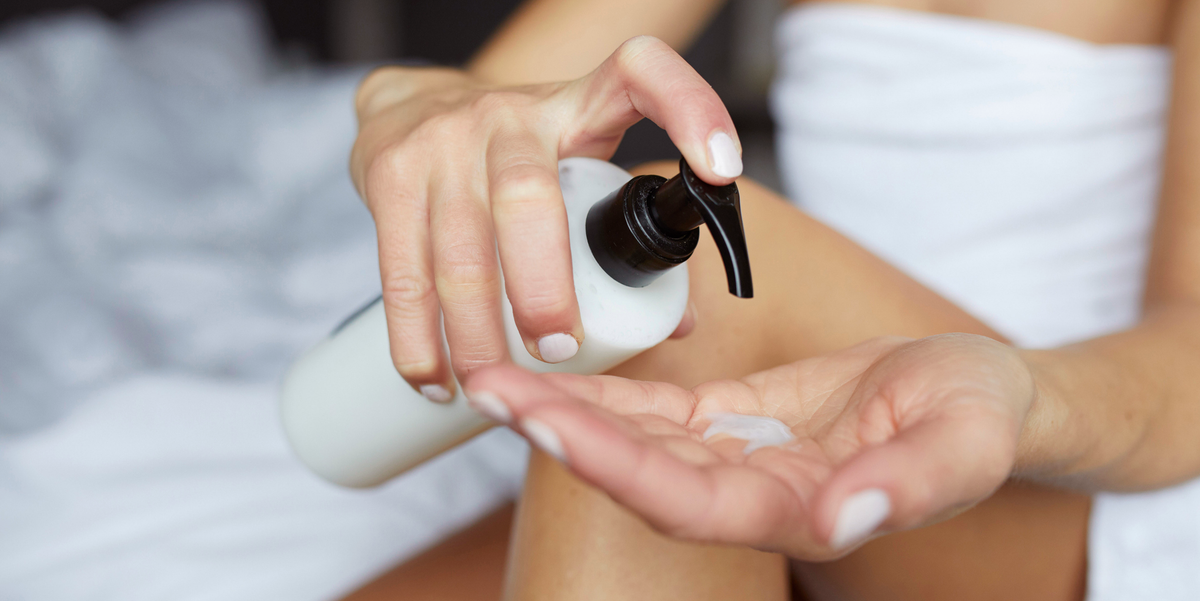 Thanks to dry skin, you may be looking and feeling a bit lizard-like right now—and there are many things that can cause that tight, uncomfortable feeling.
Skin conditions, genetics, chlorine in pools, and getting older can all play a role, but weather is a major factor. "Cold weather can disrupt the lipid bilayer, which protects our skin from the environment, thereby causing skin dryness, sensitivity, and flaring skin conditions like eczema," says Yoon-Soo Cindy Bae, MD, a board-certified dermatologist at Laser & Skin Surgery Center of New York. Cold air outside and the dry heat indoors also contains little humidity, further promoting parched patches.
"I've also noticed that many of my patients don't care for their body skin as much as they do with their face or hands," says Dr. Bae. "The rest of our body is covered, so it's easier to ignore," she says.
One thing to remember is that your body wash can actually make dry skin worse, says Diane Madfes, MD, a board-certified dermatologist at Madfes Aesthetic Medical Center in New York City. Be sure to choose a mild body wash and skip exfoliating cleansers this time of year, which can exacerbate dryness.
Then, keep a bottle of body lotion or cream on hand for when you step out of the shower, she advises: "Lotion up when skin is damp, which allows the moisturizer to spread easier and absorb better into skin." But in a sea of body lotions and moisturizers, how do you make the right pick? We asked dermatologists what to consider next time you're in the body care aisle.
How to choose the best body lotion or cream for dry, itchy skin
Find your hero product: If you don't like the feel or smell of a lotion, you're just not going to use it, says Dr. Bae, meaning you'll be stuck with extremely dry skin. There's a big difference among products, so if you don't like one, try another until you find one that you'll stick with.
Don't count on cost: You can buy a fancy lotion, but you don't have to. Drugstore brands can get the job done just as well.
Look for essential hydrators: Glycerin, shea butter, cocoa butter, and ceramides are a few of the must-have moisturizing ingredients in a good lotion, says Dr. Madfes. Hyaluronic acid, dimethicone, colloidal oatmeal, petrolatum, and urea are also helpful ingredients that add and lock in moisture.
Think about fragrance: The right scent can lift your mood, feel energizing, or help you relax. However, any fragrance added to your skincare can spur irritation, so choose a fragrance-free formula if you have sensitive skin.
Test, if necessary: If you know you have especially sensitive skin that's reacted to body lotion in the past, consider patch testing before applying to your whole body. Dr. Madfes recommends trying it on a small area on your chest for a couple days. No reaction? You're good to go.
Now, here are the top dermatologist-approved body lotions, creams, and moisturizers to keep your skin feeling silky smooth year-round.
1
BEST OVERALL
CeraVe Moisturizing Cream
amazon.com
$14.24
"Cerave Moisturizing Cream is one of my all-time favorite body moisturizers, and contains ceramides (a lipid naturally found in skin), glycerin, and hyaluronic acid to pack a powerful punch of deep moisturizing and hydration," says Shari Marchbein, MD, a board-certified dermatologist at Downtown Dermatology in New York City. "Together with cholesterol and fatty acids, ceramides are responsible for creating a healthy, intact skin barrier and retaining moisture in the skin." With more than 2,100 rave reviews on Amazon, this body cream is a clear tester favorite, too. 
2
BEST VALUE
Vaseline Clinical Care Extremely Dry Skin Rescue Body Lotion
walmart.com
$5.84
Dr. Marchbein also loves this body lotion from Vaseline, since it's hypoallergenic and fragrance-free. "Importantly, it is specially formulated with the Barrier Repair Complex which contains prolipids, glycerin, and petroleum jelly, three key ingredients to deliver and seal in moisture," she says.
3
RAVE REVIEWS
Eucerin Advanced Repair Lotion
Eucerin
amazon.com
$11.99
$9.66 (19% off)
If you simply want a no-fuss body lotion that gets the job done, check out this raved-about moisturizer from Eucerin. It packs ceramides, shea butter, and glycerin for intense hydration, but also contains lactic acid, an ultra-gentle alpha hydroxy acid (AHA) that gently exfoliates the skin for a smoother, more youthful appearance. Reviewers rave about its skin-quenching abilities, lasting power, mild scent, and non-greasy application. Just note that AHAs can make you sun-sensitive, so slather on the sunscreen afterward.
4
MOST SOOTHING
Aveeno Daily Moisturizing Body Lotion
amazon.com
$15.18
$6.08 (60% off)
Recommended by Dr. Madfes, this fragrance-free lotion contains colloidal oatmeal, which has a soothing effect and reinforces skin's barrier. Moisturizers like dimethicone, glycerin, and petrolatum smooth skin. What's more, the noncomedogenic formula absorbs quickly, so you're not left with that greasy feeling.
5
MOST LIGHTWEIGHT
CeraVe Daily Moisturizing Lotion
amazon.com
$13.99
$10.49 (25% off)
Often, lotions that contain hyaluronic acid (a humectant that draws moisture into skin) are more expensive, says Dr. Madfes. However, CeraVe's lightweight lotion is one way to reap the benefits of HA at a drugstore price (without the richer feeling of a cream). It also leans on ceramides (a natural lipid found in your skin that helps it retain moisture) for an extra boost of hydration in a non-irritating, skin-softening formula. Regardless of your skin type, you'll enjoy this one.
6
BEST SPLURGE
Kiehl's Creme de Corps
nordstrom.com
$48.00
If you prefer a richer, thicker lotion, this one from Kiehl's is sure to please. Kiehl's generally adds squalene to its products, an ingredient that acts as an emollient without a greasy feel. Creme de Corps also includes cocoa and shea butters, glycerin, several plant oils (like avocado and almond oils), and aloe vera to soothe and moisturize the driest, flakiest skin. If you love the formula but want something lighter, Dr. Madfes also recommends the spray-on body oil version of Creme de Corps, since it's enriched with grapeseed oil and absorbs into skin quickly to boost suppleness.

7
EDITOR'S PICK
Dove DermaSeries Dry Skin Relief Body Lotion
amazon.com
$10.99
$8.72 (21% off)
This ultra-gentle, creamy body lotion works wonders on severely dry skin without ever feeling heavy or sticky. Packed with pro hydrators and niacinamide, the fragrance-free, hypoallergenic lotion works wonders on eczema-prone, irritated skin. The name says it all: Your skin will instantly feel "relieved" after you slather this on for a silky-smooth finish.
8
BEST FOR SENSITIVE SKIN
Avène Xeracalm A.D Lipid-Replenishing Balm
amazon.com
$34.00
For especially sensitive skin types, this lotion from Avène wins a National Eczema Association seal of acceptance, as it's suitable for eczema or atopic dermatitis-prone skin. That's thanks to strong moisturizers (glycerin and mineral oil) and what it leaves out; it has no ingredients that can cause irritation, such as preservatives, parabens, or fragrances. This one pulls double duty, as you can use it on your face and body.
9
BEST FOR ITCHY SKIN
Curél Itch Defense Calming Body Lotion
Curél Skincare
amazon.com
$9.99
$7.97 (20% off)
Ceramides, Pro-Vitamin B5, and shea butter team up to provide instant relief for dry, itchy skin. The fragrance-free formula works on all skin types, even for those who struggle with eczema. In fact, it's so gentle that you can use it on babies 6 months and up. "After about a week of applying this after my showers, I had no itching, no stinging on application, and my skin felt a whole lot more comfortable," one reviewer raved.
10
BEST FOR ECZEMA
Aveeno Eczema Therapy Daily Moisturizing Cream
amazon.com
$11.69
$7.99 (32% off)
This ultra-nourishing, fragrance-free cream was specifically designed with eczema-prone people in mind. If you prefer a steroid-free formula, this one contains ceramides and colloidal oatmeal to seriously restore the skin's barrier to calm redness, irritation, itchiness, and dryness. "I only really need to use it every couple of days and it clears my eczema up wonderfully. It has no scent and isn't greasy," one tester wrote. "I don't think I'll go back to medication after this."
11 Cetaphil Moisturizing Cream (Pack of 3)
amazon.com
$43.99
$32.97 (25% off)
Reach for this body cream when you need an extra hit of hydration. Thanks to a combination of emollients like petrolatum (which create a protective barrier on the skin) and humectants like glycerin (which pull in moisture), "the intense, moisture-rich formula binds water to the skin and protects from dryness for 24 hours," says Dr. Bae. Fragrance-free, it's good for sensitive skin. It also comes in a tube if you don't love the tub packaging.
12 La Roche-Posay Lipikar Balm AP+ Intense Repair Body Cream
amazon.com
$19.99
Suitable to use on your face and body, La-Roche Posay's heavy-duty cream utilizes shea butter, glycerin, and niacinamide (a B vitamin that reduces redness) for a soothing moisturizer that leaves dry skin feeling replenished and soft. Noncomedogenic and fragrance-free, this one is also accepted by the National Eczema Association, so it's ideal for sensitive skin that tends to get red and itchy. Thick enough to heal dry patches, it still sinks right in for a barely-there finish, earning Dr. Marchbein's stamp of approval.
13 L'Occitane Moisturizing 15% Shea Butter Rich Body Lotion
amazon.com
$34.00
With 15 percent shea butter, a pump of this lotion will deliver seriously soft skin (and protect the outer barrier at the same time). Apricot oil extract adds another layer of moisture, while vitamin E protects with antioxidants. Struggling with extremely dry hands? L'Occitane's raved-about formula was also named one of the best hand creams for dry skin by Prevention. 
14 Cetaphil Moisturizing Lotion (Pack of 2)
amazon.com
$18.39
Count this as your everyday moisturizer, says Dr. Bae. "I love the easy-to-use pump for regular application," she says. The lightweight, non-greasy, fragrance-free lotion taps vitamins E and B5, glycerin, and dimethicone to quench thirsty skin. It's also especially great for those suffering with certain skin conditions, like eczema, psoriasis, or even acne.
Dermatologists Say These Body Lotions Work Wonders on Extremely Dry Skin, Source:https://www.prevention.com/beauty/skin-care/g25292152/best-lotions-for-dry-skin/