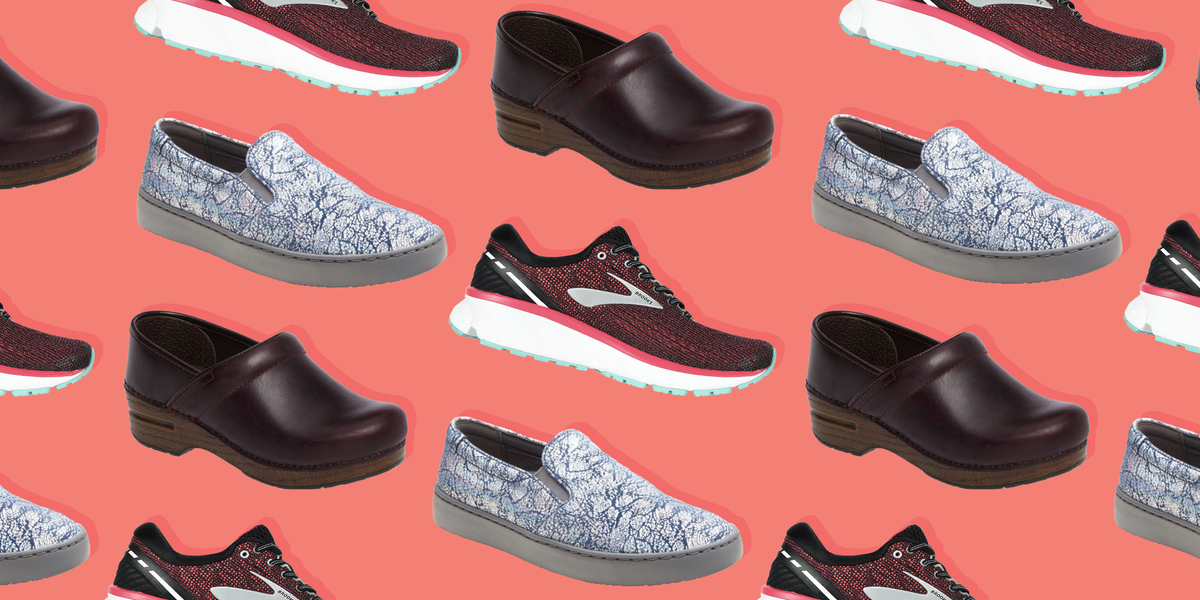 When your profession involves anything from running alongside a gurney to standing for hours in the ER or operating room, the right shoes are a must. Being on your feet all day puts your lower extremities under a lot of stress. So if you're consistently wearing unsupportive shoes, you could develop achy arches, joint pain, and other uncomfortable problems. Fortunately, there are lots of footwear options perfect for people who stand all day—you just have to know what to look for.
How to shop for the best shoes for nurses
"You now see all kinds of medical professionals on hospital floors wearing running shoes that are designed to stand up to a lot of stress and strain," says Karen Langone, DPM, a podiatrist based in Southampton, New York. Clogs are also a good choice, says Howard Friedman, DPM, a Suffern, New York-based podiatrist. They tend to have a wide toe box, which helps accommodate feet as they naturally expand throughout the day. This is why you often see surgeons and other health professionals wearing them in the operating room, Freidman says. You also need a shoe that's durable but also lightweight—after all, you're probably clocking several miles a day around the hospital. Lastly, shoes with a slip-resistant sole are key, as you never know what messes will come your way.
To help keep pain at bay, Dr. Freidman suggests picking up at least two pairs of supportive sneakers or clogs. (Or one of each!) A shoe's cushioning becomes completely compressed after six hours or so and no longer offers support, Dr. Friedman cautions. So having two great pairs allows you to change halfway through your shift.
The options below are perfect for nurses and anyone else—retail workers, servers, bank tellers—who spend most of their workdays on their feet.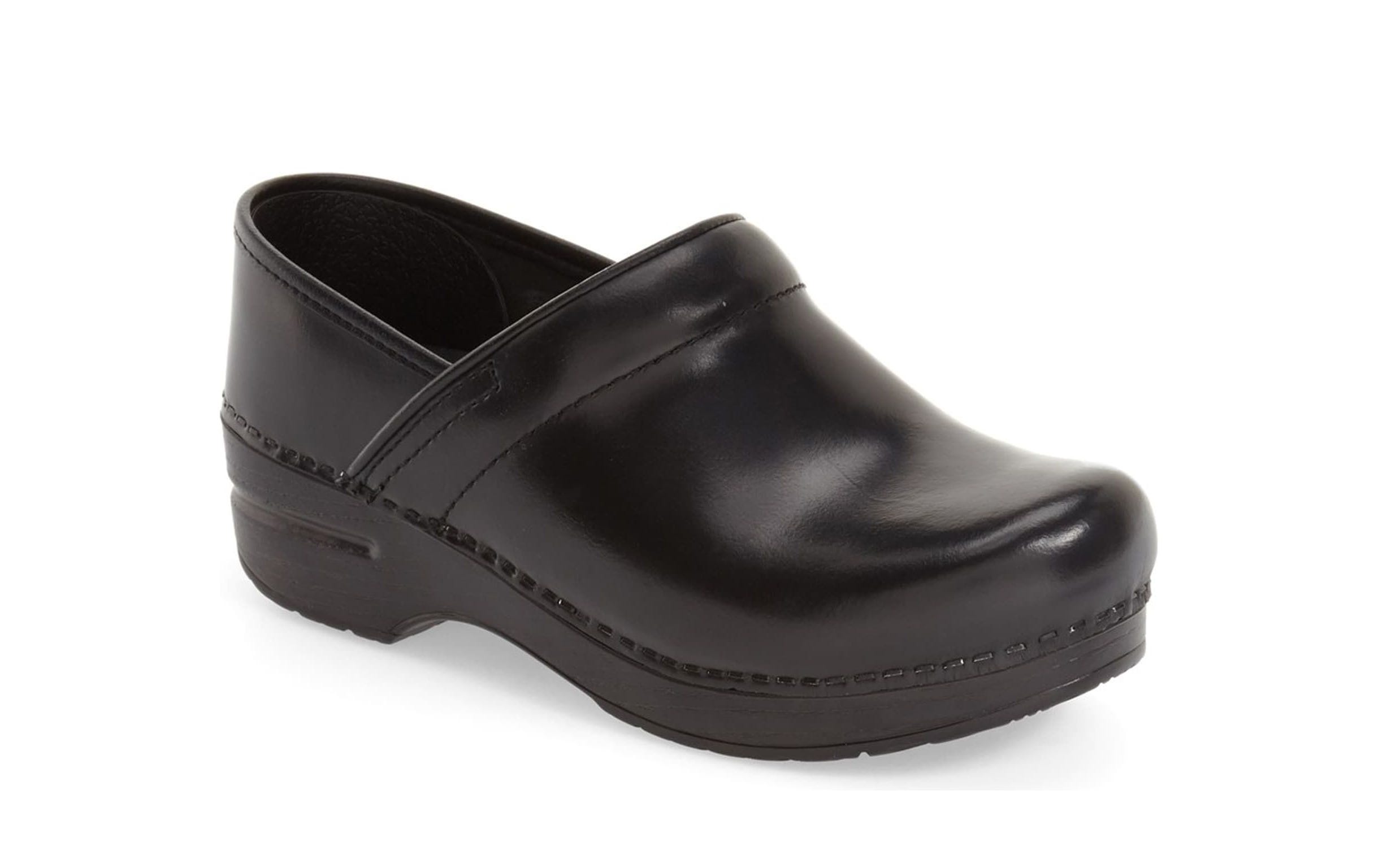 Nordstrom
'Professional' Clog
DANSKO
nordstrom.com
$119.95
1. Best Overall: Dansko Professional Clog
4.5 out of 5 stars
150+ Nordstrom customer reviews
"I've often recommended Dansko clogs or similar type clogs to nurses because they are very supportive," Dr. Friedman says. This classic leather pair—which has a seal of approval from the American Podiatric Medical Association—features a roomy toe box, a comfy platform, and an antimicrobial lining to ward off odor after all-day wear. A Nordstrom reviewer writes, "I've worked in nursing for over 20 years. I was so thankful when I found these clogs over 15 years ago. I have multiple pairs. I have a high arch and narrow feet. It's like these shoes were made for me!"
---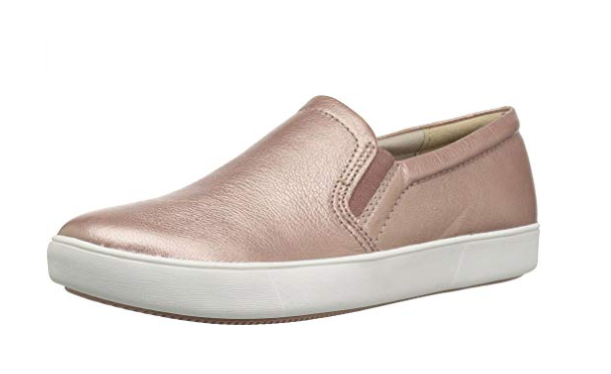 Amazon
Marianne Sneakers
Naturalizer
amazon.com
$79.00
$54.07 (32% off)
2. Best Value: Naturalizer Marianne Slip-On Sneaker
4.3 out of 5 stars
20+ Amazon customer reviews
With three different food width sizes, there's sure to be a pair that's right for you. Naturalizer's shoes are designed with comfort for people on their feet all day. Their N5 Contour Technology includes a contoured, dual-dense footbed that provides support to the arches and heels. Plus, it features a cooling lining that keeps your feet dry. One Nordstrom reviewer says, "So comfortable and cute! I am on my feet all day at work and they are so supportive. i don't wear them with socks, just slip them on and go."

---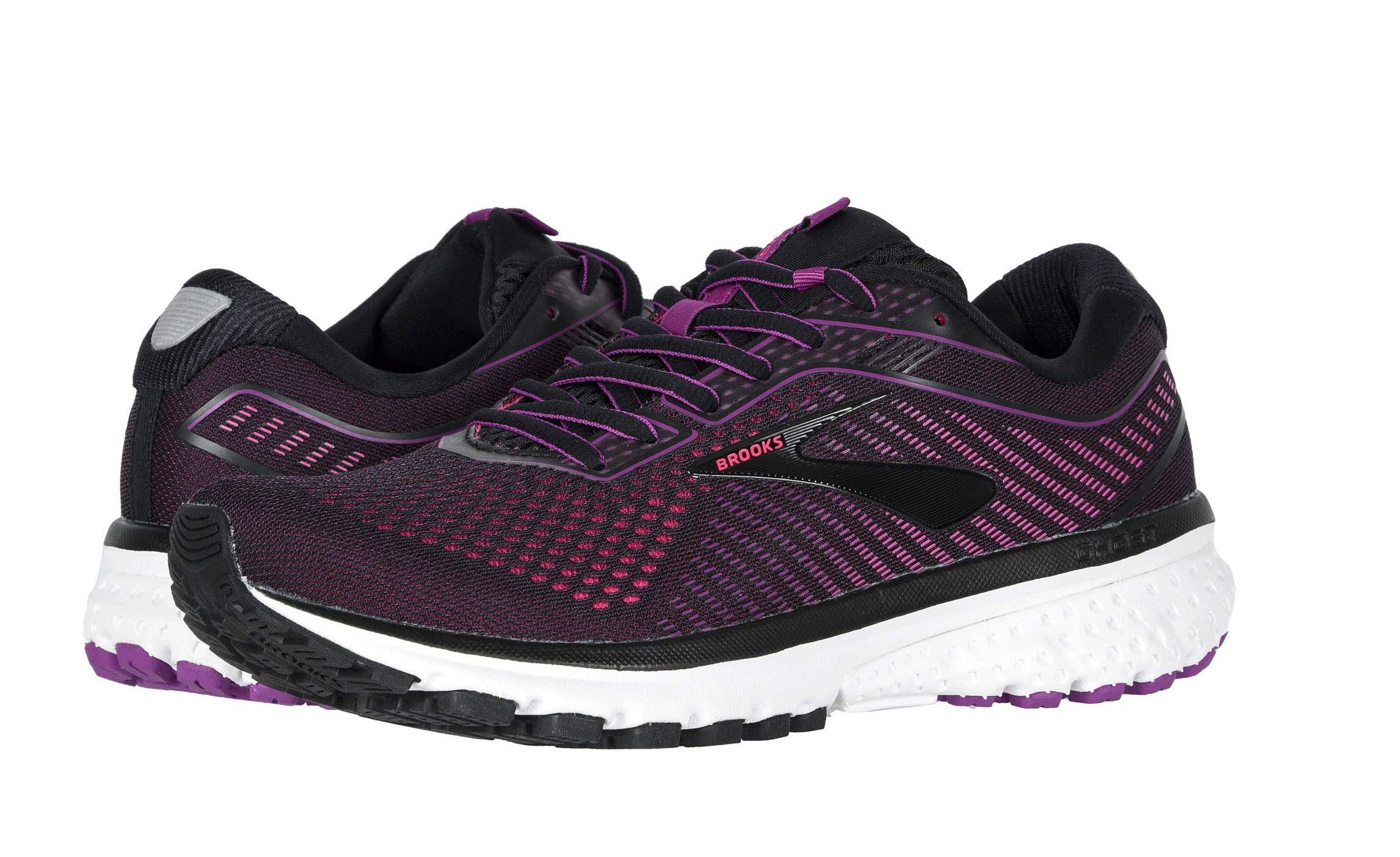 Zappos
Ghost 12
Brooks
zappos.com
$129.95
3. Best Sneakers: Brooks Ghost 12 Shoe
4 out of 5 stars
100+ Zappos customer reviews
When you're a nurse, you want a shoe that can withstand the rigors of a marathon, Dr. Langone says. Brooks is known for their quality running shoes, and their Ghost 12s are no exception. They're described in terms typically reserved for luxury cars: plush, with a smooth ride. One Zappos reviewer raves, "If you are in need of a soft, pillowy neutral shoe, these are it! If you have heel pain these shoes are the bomb diggity. Soft, supportive and just right."
---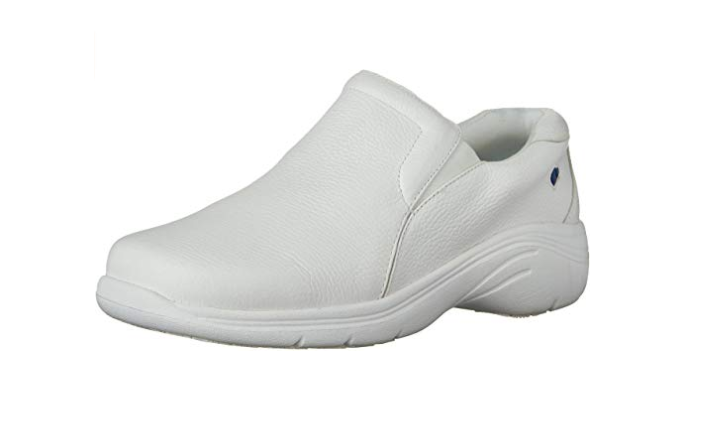 Amazon
Dove Lites Slip-On Nursing Shoes
Nurse Mates
amazon.com
$74.00
4. Best Slip-On Shoe: Nurse Mates Dove Shoe
4 out of 5 stars
600+ Amazon customer reviews
This line was explicitly designed with nurses in mind. The lightweight rubber soles will keep you from slipping on slick hospital floors, while the steel shanks on the sides of the shoes provide extra stability. But that's not all. These slip-ons also feature a stain-resistant finish—perfect for when things get messy. "You need a shoe that doesn't allow blood and bodily fluids to penetrate through," Dr. Langone says.
---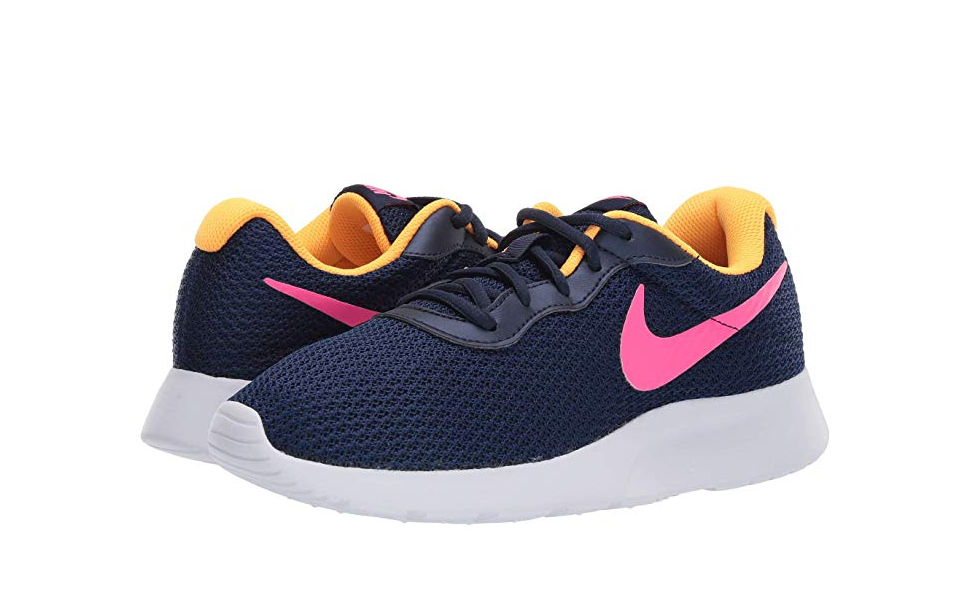 Zappos
Tanjun Sneakers
Nike
zappos.com
$64.95
5. Most Stylish: Nike Tanjun Sneaker
5 out of 5 stars
1,000+ Zappos customer reviews
Looking for something a bit more fashion forward? These sneakers come in eight different color combos and are a favorite of online reviewers. People love the comfortable, roomy toe box and thick sole, which is ideal for supporting your feet hour after hour. A Zappos reviewer says, "As an OR (operating room) tech, I am on my feet all day and constantly moving. These sneakers are amazing. The level of comfort is unreal. I highly recommend for anyone that spends a lot of time on their feet."
---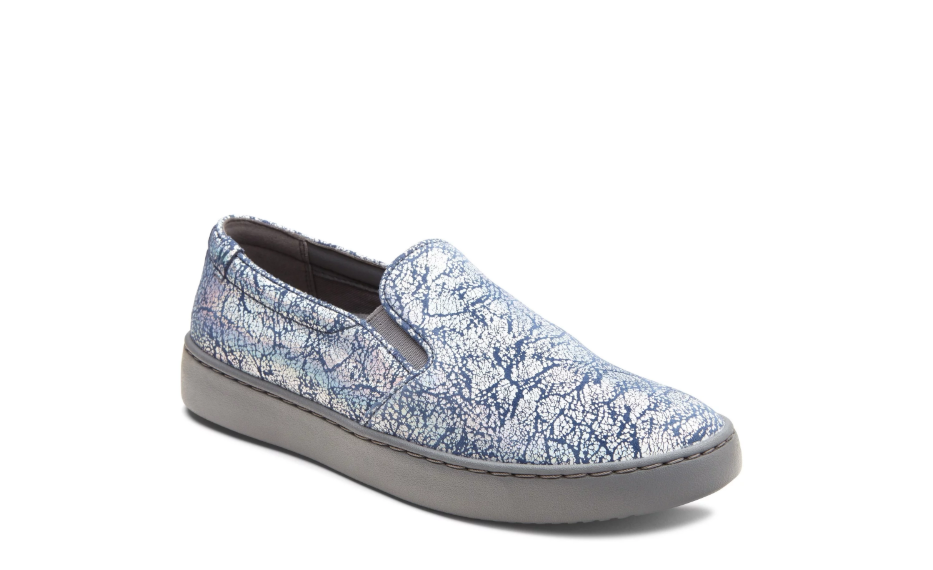 Vionic
Avery Pro Metallic
Vionic
vionicshoes.com
$129.95
6. Most Stylish Runner-Up: Vionic Avery Pro
4.5 out of 5 stars
7 Vionic customer reviews
If your job doesn't carry the risk of body fluid spills and you're looking for something a little dressier, give this stylish pair try. Lightweight and supportive, these leather slip-ons have a durable, slip-resistant outsole and supportive cushioning on the inside that conforms to your feet. A Vionic customer writes, "Perfect shoe for a nurse! Was concerned about the heel being a bit tight initially, but they are perfect now that I've worn them for a couple days."
---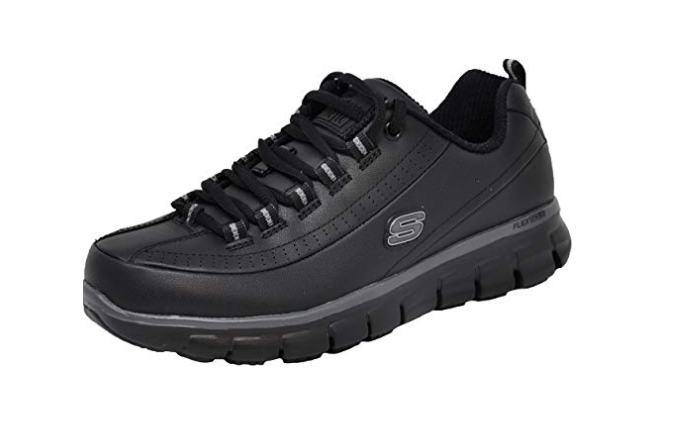 Amazon
Sure Track Trickel Slip Resistant Shoes
Skechers
amazon.com
$57.95
7. Skechers Work Sure Track Trickel Slip Resistant Shoe
4.4 out of 5 stars
2,000+ Amazon customer reviews
Skechers garner high praise from online reviewers for their comfort and durability during long work days. They're also water-resistant, have memory foam insoles, and non-slip rubber soles. One Amazon reviewer who is on her feet 10+ hours a day says, "I bought these shoes as the best I could afford with slight the hope that they would help. To my pleasant surprise, I was able to work on them for 10.5 hours the first day and no swelling."
---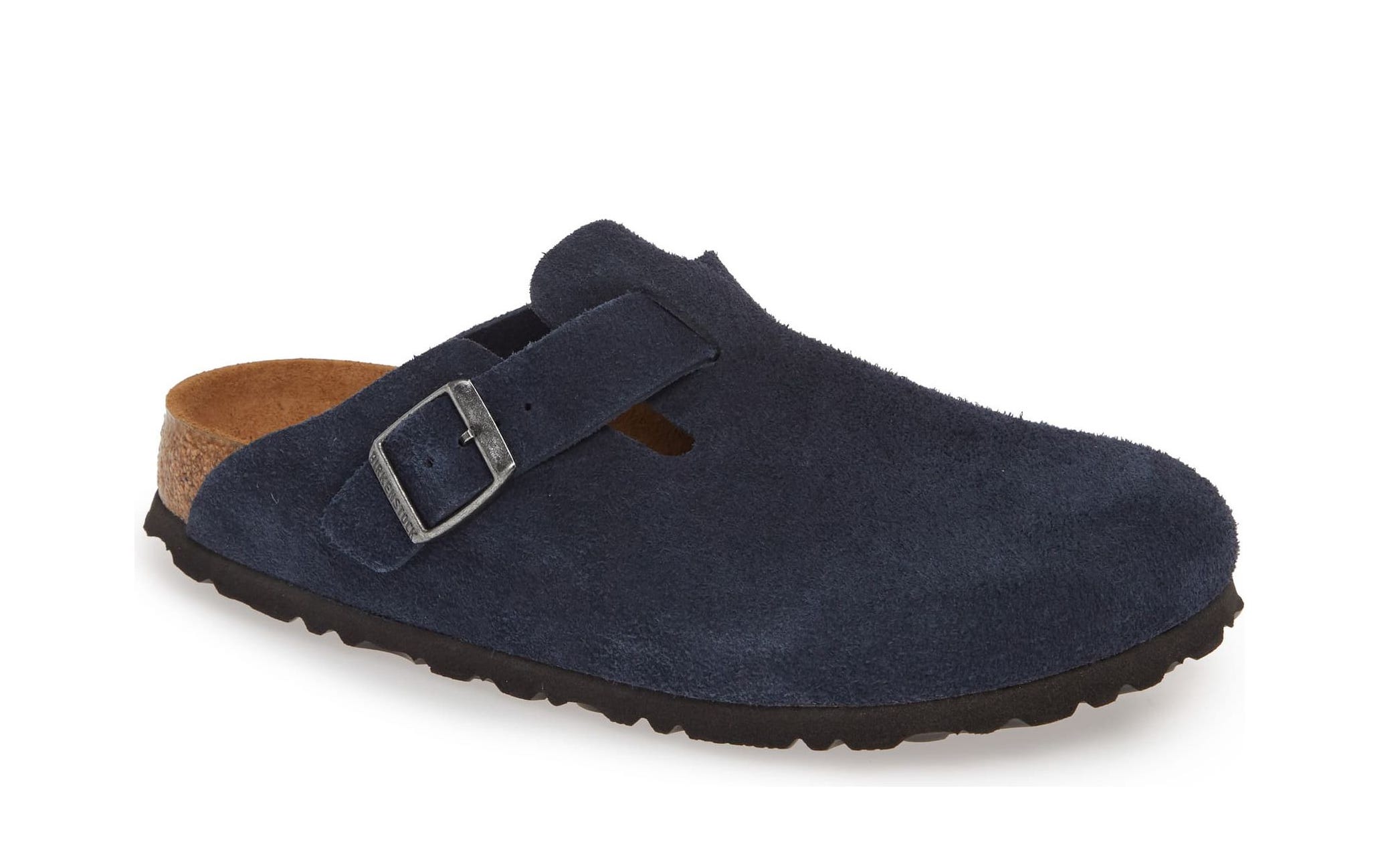 Nordstrom
'Boston' Soft Footbed Clog
Birkenstock
nordstrom.com
$144.95
8. Birkenstock Boston Soft Footbed Clog
4.5 out of 5 stars
130+ Nordstrom customer reviews
You can wear these clogs from the operating room to the street. Birkenstock's comfortable footbeds fit the curves of your feet perfectly while providing excellent support. It also has a sturdy rubber sole that offers traction on a variety of surfaces. One Nordstrom reviewer says, "This footbed is quite a bit more comfortable than the original ones to me. They look quite good with everything from my jeans to a jumpsuit, and took no break-in time."
---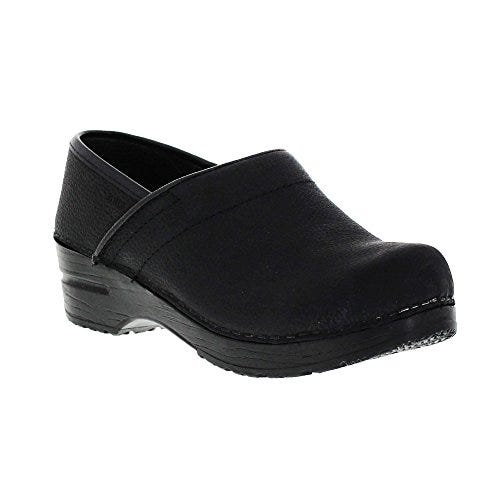 Amazon
Professional Oil Closed Black Leather Clogs
Sanita
amazon.com
$70.56
9. Sanita Women's Professional Patent Clog
3.8 out of 5 stars
400+ Amazon customer reviews
These clogs are not only cute but thanks to their durable leather frame, they're ready for anything. Tend to have achy arches after a long day? The American Podiatric Medical Association recommends these kicks because of their top-notch arch support. "This is my fourth pair of Sanita clogs and I wear them to work as a health care professional," an Amazon reviewer says. "These are useful for occupations where you are on your feet, standing and taking short walks down hallways."
---

Like what you just read? You'll love our magazine! Go here to subscribe. Don't miss a thing by downloading Apple News here and following Prevention. Oh, and we're on Instagram too.
The Best Shoes for Nurses, aka Heroes Who Stand All Friggin' Day, Source:https://www.prevention.com/health/a19608765/best-shoes-for-nurses/