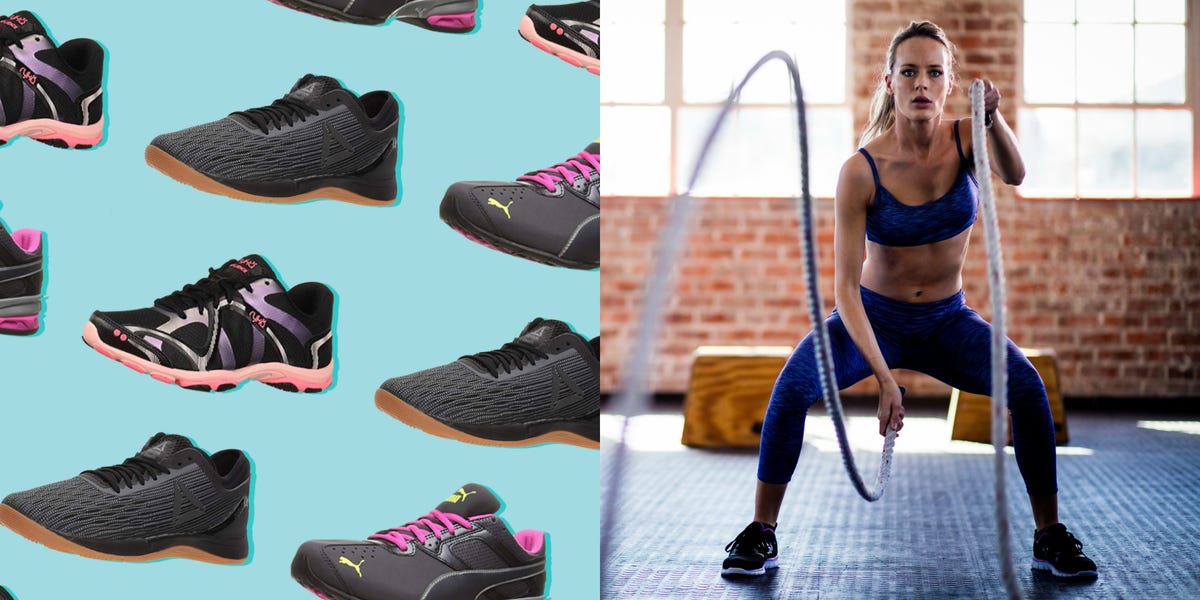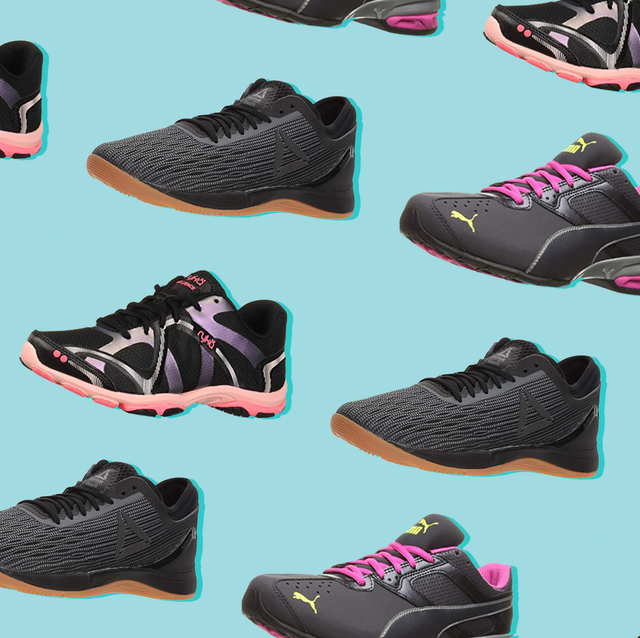 Amazon
CrossFit workouts involve lifting heavy barbells and doing many power training exercises, including box jumps, burpees, kettlebell swings, and even sprinting on a treadmill. In fact, many CrossFit workouts—or Workout of the Day (WOD), as they call it—combine weightlifting exercises with rowing, running and HIIT. That means you need a pair of supportive and durable shoes that can absorb weight while also helping you move freely.

How to shop for the best CrossFit shoes
Unlike running shoes, CrossFit shoes tend to have a flatter heel and a wider sole that's heavier and more durable. This allows you to firmly plant your feet on the ground and transfer energy when doing deadlifts, front squats, and other weightlifting exercises. Jonathan Rouse, DPM, a podiatrist based in Chicago, fellow at the American College of Foot & Ankle Surgeons, and CrossFit athlete, says his number one rule is to make sure your feet don't slide around in the shoe. "You're going to lose a toenail and cause permanent damage and have thickened nails if you don't," he says.
That said, CrossFit shoes with a roomy toe box is also key, as your feet need to be able to expand to distribute weight. Dr. Rouse recommends going a half size up if your find that your CrossFit shoes are too tight; he says that many CrossFit shoes tend to run small. This allows a little more space for your feet to breathe, preventing foot pain. "If your shoes feel too tight in the store, they are going to be too tight when you're trying to work out. Place a sports orthotic in them if you want to make them more comfortable," he says.
Lastly, your shoes should also have a flexible midsole, so your feet are able to move freely when performing lateral and explosive movements, like parallette jumps. To help you find the right pair of cross trainers for you, we rounded up the best CrossFit shoes, according to trainers and reviewers.

Advertisement - Continue Reading Below
1
Best Overall
CrossFit Nano 8.0 Flexweave Cross Trainer Shoes
Reebok
amazon.com
$85.96
4.5 out of 5 stars
400+ Amazon customer reviews

You'll crush every WOD with more speed and agility, thanks to these durable sneakers. These cross trainers from Reebok have a breathable flexweave upper to keep your feet cool and dry during high-intensity workouts. Dr. Rouse, a CrossFitter himself, says that these shoes have kevlar—a strong synthetic fiber—in the arch support area, which will help with repetitive movements and high-impact exercises. Plus, they offer a sock-like fit and feature a low-cut design around the ankle and heel to give you better mobility during explosive movements.  
One Amazon reviewer says, "Hands down the best shoes for CrossFit training. These shoes have a flat, extremely stable sole while having amazing cushion and enough support to prevent shin splints and cramps."
2
Best Value
Tazon 6 FM Cross Training Shoes
PUMA
amazon.com
$70.00
4.4 out of 5 stars
1,000+ Amazon customer reviews
If you're looking for a pair of CrossFit shoes that you can wear from the gym to walking outside, these Puma cross trainers are a good pick. They have a slight platform heel that provides stability and shock absorption and a medial post so your feet won't roll from side to side during sprints and sudden lateral movements. 
One Amazon customer, who does kickboxing and HIIT-style weightlifting workouts, says these sneakers are versatile for a variety of workouts. "I wanted shoes that could do both as changing shoes halfway through my workout was getting annoying. These definitely get the job done. They are shock absorbing enough for the HIIT workouts, but the sole is stiff and firm enough for squats and deadlifts," she says. 

3
Best Shoes with Inserts
20v7 Minimus Cross Training Shoes
New Balance
amazon.com
$89.45
4 out of 5 stars
50+ Amazon customer reviews
These cross training shoes have a removable insert, perfect for people who want to add their own orthotics. Thanks to their midsole foam cushioning, mesh panels, and Vibram-zoned outsole, CrossFitters will love how supported and stable they feel on their feet during strength training. The best part is that they come in regular and wide width sizes to accommodate all foot shapes.
One personal trainer says, "I do pretty intense metabolic circuits and lift pretty heavy outside of coaching. These shoes are perfect. They provide just the right amount of support for lifts and have killer traction for my sprints."
4
Best for Rope Climbs
Metcon 5 Cross Training Shoes
NIKE
nike.com
$130.00
Another top pick for Dr. Rouse and Betina Gozo, a Nike Master trainer and creator of STRONG with Betina Gozo: Total-Body Fitness In Under 20 Minutes, these sneakers give her stability and traction for heavy lifting. "They were designed to give the CrossFit athlete the best durability, stability, and flexibility for all movements," Gozo says. Gozo says she likes that they provide grip on the outsole for rope climbs and an extra heel lift for explosive movements, like snatches. With a wide heel that's low and flat, you can spread your toes evenly in them to distribute weight when you're doing thrusters. 
5
Best Hybrid
Wave Horizon 3 Running Shoes
Mizuno
amazon.com
$159.95
4.1 out of 5 stars
10+ Amazon customer reviews

While these shoes are best for running, Tiffani Hedin, an obé fitness instructor, says they have highly cushioned midsoles, which make them great for heavy lifting too. "Everyone's foot is different, just like the rest of our bodies. I recommend these supportive shoes because they make your feet feel secure while you're sweating through squat jumps and burpees," she says. These sneakers also have a much lower heel, which makes them more adaptive to doing a variety of movements. 
An Amazon customer who is prone to plantar fasciitis says, "I work out doing HIIT four times a week for an hour and half a time. My feet were beginning to kill me. This shoe was amazing. Totally stiff sole, my orthotic slipped right in and finally, a pain-free workout."
6 CrossFit Nano 6.0 Covert Shoes
Reebok
reebok.com
$120.00
4.6 out of 5 stars
300+ Reebok customer reviews

Kai Braden, a FlexIt Master Trainer, swears by these CrossFit shoes. "I love the light feel, the flat heel, and the breathability—and the black/gum color scheme is fire," he says. Designed with a compression-molded midsole and a durable rubber outsole, these shoes will help with shock absorption and help you transition with exercises easily and quickly. Braden specifically likes Reebok's thicker material on the top of the foot for rope climbs. Reebok customers agree and say they also appreciate their wide width and support. "These are my first pair of Nanos, and I already feel the difference when doing deadlifts and squats compared to other brands. I can feel the stability and my heels stay grounded," a reviewer writes. 
7 Crazytrain Elite Cross Trainer Shoes
adidas
amazon.com
$109.44
4.2 out of 5 stars
25+ Amazon customer reviews

Designed with a low top from the arches, these CrossFit shoes help you stabilize when you need to build power from the ground up during powerlifting exercises. They have a breathable mesh upper and a fitted lacing system that ensures your shoes stay on, no matter how intense things get. Great for agility drills and lateral movements, these shoes are also made with responsive cushioning so you get exactly what you put into your workouts. 
CrossFit reviewers say these shoes provide the support your feet need for heavy lifting and keep them comfortable. "I needed some additional lateral support for my workouts and these shoes really did the job. They are comfortable, provide great support, require no breaking in and on top of all this, they are light. Will buy more," an Amazon customer writes. 
8 Influence Cross Training Shoes
Ryka
amazon.com
$79.95
4.1 out of 5 stars
2,000+ Amazon customer reviews
When you're lifting heavy weights, you need shoes with superior traction so your feet stay firmly planted on the floor. Any slight lift of the heel or arches can lead to injury. These cross training shoes from Ryka are great for CrossFit workouts because they have a dual-dense foam midsole that make it easy to transfer energy into the ground. They also provide cushioning in the arches and heels. 
"I purchased these shoes for my fitness class, which has a lot of pivoting, push-ups, lunges," says an Amazon customer. "This is a cute, supportive, solid shoe for any CrossFit-type exercise. I noticed a big difference the first day when I did a lunge with weights. I had no trouble keeping my balance at all."
9 Free Metcon 2 Cross Trainer Shoes
Nike
zappos.com
$120.00
4 out of 5 stars
5+ Zappos customer reviews

You'll have no problem doing burpees and box jumps with these CrossFit shoes, which have a midfoot cage that locks your feet in place when doing plyometric exercises without restricting movement. They also feature cushioned insoles to provide support during heavy weightlifting and high rubber sidewalls for better traction when rope climbing. The durable rubber outsoles have deep grooves for excellent traction as well. 
"Love this shoe!," says a Zappos customer. "I purchased for my metcon/weightlifting sessions, not exclusively CrossFit. I like the plastic piece on the side to adjust tightness around the foot and the 'sock-like' design is perfectly snug. 
10 F-Lite 235 V3 CrossFit Shoes
inov-8
zappos.com
$130.00
4 out of 5 stars
2 Zappos customer reviews
Built with a mix of protective support and lightweight flexibility, these CrossFit shoes have a mesh upper with a snug lace design for a breathable yet secure fit. These sneakers also feature supportive midsoles that offer shock absorption and responsiveness. To top it off, the sturdy grooves on the outsole have a natural flex at the forefoot so they won't restrict movement. 
One Zappos customer says, "The fit is very comfortable and the mesh is lightweight and breathable, but still cushioned at the back of the heel. 
11 Threadborne Cross Training Shoes
Under Armour
amazon.com
$109.99
4.2 out of 5 stars
70+ Amazon customer reviews 

Under Armour's signature threadborne embroidered upper in these cross training shoes makes them breathable but also flexible enough to move in a variety of directions. Hey, when you're doing lateral lunges to rotational squats jumps, you'll appreciate that they won't restrict your movements. The EVA sockliner gives you a snug fit that's comfortable and supportive too. 
"Love these shoes! These are my daily go-to for CrossFit," says one Amazon reviewer. "I ordered them in black and loved them so much that I'm buying the teal next week!" Another customer says, "Great shoe. The comfort is so good. Lightweight and easy to work out in."
Advertisement - Continue Reading Below
These CrossFit Shoes Will Give You Stability and Support When Lifting Heavy Weights, Source:https://www.prevention.com/fitness/workout-clothes-gear/g29458432/best-crossfit-shoes-for-women/