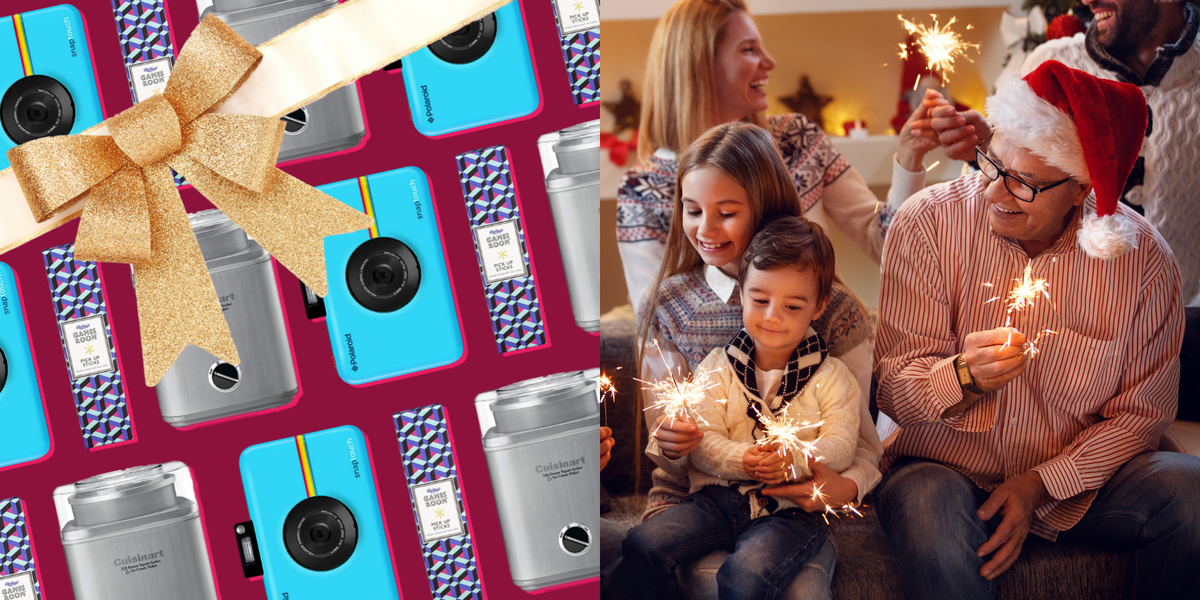 At their core, the holidays are all about spending time with the people you love. So while we put a lot of weight on finding the perfect present for the individual—be it your mom, dad, sibling, partner, or kiddo—sometimes the most cherished gifts are the ones that generate togetherness. What exactly goes into that category? We have a few ideas, some of which might fall beyond the bounds of what you'd expect. Oh, and one handy trip while you're shopping for something that'll make the whole gang happy: Close your eyes and think about how it will be put to use in their lives. If everyone in your imagination is smiling … Well, your work here is done.
1 Ridley's Classic Pick Up Stick Set
Ridley's
amazon.com
$19.99
Introduce this age-old game to a new generation. (Tagline: "It's like Jenga but less complicated" and less noisy too.) Simply gather the family, drop the sticks in a pile, then try and pull them out, one by one, without disturbing the structure.
2 Customized Puzzle Piece Key Chains
One27Designs
etsy.com
$200.00
Never mix up the keys again with these stainless steel accessories, which are shaped like puzzle pieces and can be engraved with names or other desired text. We love that when you order them in a set, they all fit together—think of these key rings as a metaphor for family that also have a practical purpose.
3 Luby HP03 Portable Mini Movie Projector
LUBY
amazon.com
$135.11
You know when you want to look through photos and the size of your phone screen just doesn't do them justice? This mini movie projector solves that problem. Perfect for camping or the living room, it's easy to set up and sync with your smartphone so you can watch videos or movies on the included drop-screen.
4 Franklin's Original Whirley Pop Stovetop Popcorn Machine
Franklin's Gourmet Popcorn
amazon.com
$49.99
This stovetop popcorn maker will make your family's next movie night all the more fun. Just start some butter or an oil of your choice in the pan, add the kernels, turn the handle and wait for the popping to begin! Bonus points for letting kids customize the toppings.
5 Kali the Kitty Zip-Up Hoodie
cubcoats.com
$45.00
Cubcoats are essentially two gifts in one: Your kid gets an adorable stuffed animal...that unfolds into a hoodie! They come in multiple animal styles (all 100% cute) and how exactly does it work for the whole family, you ask? Why, they make adult sizes now, too! 
6 Indoor Snowball Fight Set
nordstrom.com
$39.95
This is a great stocking stuffer that'll get everyone involved in the fun. This soft set, which comes with 40 faux snowballs, are perfect for tossing at each other in good fun long after the wrapping paper is packed up.
7 Let It Snow Confetti Poppers
EnFete
etsy.com
$790.76
Yes, you'll probably wind up being the one to sweep up the mess. But the joy on your kiddo's face will be worth it. Plan to order at least one per person.
8 Custom This Is Home Map of Any Location
YVEPRINTCO
etsy.com
$54.91
This custom map, which features an intricate stencil of your own city, is a beautiful reminder of where your family hangs their hat. Personalize the text as well as color scheme. The Etsy shop that makes these prints also offers lovely framing options.
9 Professional Domino Tiles
CHH
amazon.com
$11.50
This good old fashioned game definitely has a place on your family shelf. Simple enough for smaller kids to join in the fun, it's also sure to be something you play together year after year.
10 Polaroid SNAP Touch 2.0
Polaroid
amazon.com
$179.99
You probably have thousands of fantastic photos that are worth printing but likely stay digital—and that's totally fine. But if you're desirous of more physical momentos, this new school Polaroid makes it super easy: The all-in-one printer and lightweight camera requires no ink and turns out fantastic pics!
11 The Earth: 540-Piece 3D Jigsaw Puzzle Ball
Ravensburger
amazon.com
$74.25
There are puzzles and then there are puzzles—and this one, which builds toward a three-dimensional globe—is definitely the latter. It's challenging enough that adults will want to get in on the fun and kids will feel a major sense of accomplishment when you've finished the project together. (Added bonus: It's also a geography lesson in disguise!)
12 Custom Family Portrait Illustration
MEEMADESIGN
etsy.com
$130.00
Photos are fantastic—but so are illustrations, and you'll want to hang onto this one forever. You'll select the number of people in your crew, provide details, and an artist will whip up a beautiful memento in the form of a digital file.
13 Chef Pomodoro Aluminum Metal Pizza Paddle
Chef Pomodoro
amazon.com
$29.99
$21.95 (27% off)
Ah, pizza night, a family classic: This pizza paddle, made from sturdy aluminum and featuring a wooden handle that folds up for easy storage, will make getting your pie in and out of the oven a total cinch!
14 Hobby Rock Tumbler Kit
NATIONAL GEOGRAPHIC
amazon.com
$64.99
Crystals are super trendy these days, and now you can give your kids the gear to make their own polished stones and even turn them into jewelry. This kit comes with rough gemstones, four polishing grits, jewelry hardware, a rock tumbler, and a detailed how-to guide.
15 Blue Pure 211+ Air Purifier
Blueair
amazon.com
$297.97
No, it's not the most "fun" family gift. But it does trap allergens, cut down on unwanted odors, and generally improve the air quality in your home. Viewed from that vantage, it's possibly the best present your household could receive.
16 Kids Against Maturity: Card Game for Kids and Humanity
Kids Against Maturity
amazon.com
$32.99
This card game is literally the age-appropriate answer to Cards Against Humanity. It follows the same easy playing structure and is destined to kick family game night into high-gear. Be prepared for fart jokes and an inability to stop giggling for hours.
17 BONAOK Wireless Bluetooth Karaoke Microphone
BONAOK
amazon.com
$69.99
$31.99 (54% off)
James Corden's "Carpool Karaoke" might air after your youngest's bedtime but that doesn't mean the whole family can't get in on the action before lights-out. This light-up LED mic is a speaker as well as a recorder, easy to use, and syncs with bluetooth that allows you to select the song. It also comes with a rechargeable, long-lasting battery—ideal for long ballads.
18 4M Table Top Robot
4M
amazon.com
$15.99
$11.99 (25% off)
This hands-on kit teaches the basics of robotics through a step-by-step process that culminates with a mini-machine that scuttles and changes direction when it bumps into something. Everything you need to build it together, minus one AAA battery, is in the kit.
19 Signature Jelly Belly Jelly Beans
Signature
amazon.com
$25.99
Have you ever taste-tested weird Jelly Belly flavors with little kids? If not, you're in for a treat, and sometimes that treat will taste like buttered popcorn or even boogers. Keep this one on the counter and agree one bean per person every day when you're all gathered around.
20 DIY Working Film Projector Puzzle
RoWood
amazon.com
$49.99
There is a lot packed into this very cool present. Made from natural laser-cut wood, it's a 3D puzzle that, once completed, is a functional film projector—as in like movie film that you hand crank to play on the wall. Everything you need to complete this project comes with the kit, which assembles in about six hours with the straightforward manual.
21 My Cinema Lightbox Rose Gold Light Box
My Cinema Lightbox
amazon.com
$19.99
This lightbox—which is backlit with LEDs and runs on AA batteries or USB—fits nine tiles across each row and comes with 100 letters, numbers, and emoji tiles to slide right in. Leave it out on the counter and encourage everyone to leave messages for the whole family. 
22 KitchenAid KP26M1XMY 6 Qt. Professional 600 Series Bowl-Lift Stand Mixer
KitchenAid
amazon.com
$569.99
$329.00 (42% off)
Baking cookies, making bread dough—this KitchenAid stand mixer opens up the door for all kinds of fun family activities. It comes in a range of colors but we're partial to the "Majestic Yellow."
23 ALPHA CAMP 6-Person Family Tent
ALPHA CAMP
amazon.com
$119.99
Whether you're already into the great outdoors or more inclined to enjoy nature in your own backyard, this family-size tent—made from quality materials and designed for easy setup—will provide a venue for tons of fun together. The domed ceiling makes it feel spacious and the floor even fits two queen-sized airbeds.
24 Marcato Atlas 150 Pasta Machine
Marcato
amazon.com
$74.20
The recipe for pasta dough is super simple—just eggs, flour, salt, and oil—and this  machine allows you to easily press dough in a variety of sizes and thicknesses. Spaghetti night just got a lot more hands-on—and more fun for everyone!
25 Yootech Wireless Charger
yootech
amazon.com
$27.99
No more arguing over chargers: These two wireless chargers—one pad and one stand for tablets or smartphones—solves that issue. Keep it in the kitchen or somewhere else it's accessible to everyone in the family.
26 Telescope 70EQ Refractor Telescope
SOLOMARK
amazon.com
$149.99
Swap screen time for start-gazing with this high-powered telescope, featuring an easy-to-focus lens that can be adapted for photography. It's straightforward to assemble and was designed with safety in mind—nothing sharp or toxic to see here folks, just a budding astronomy obsession.
27 Insulated Leakproof Picnic Basket Cooler
LabelImprints
etsy.com
$59.95
Perfect for taking to the beach, an afternoon in the park, or even just the backyard in a pinch, this insulated leak-proof picnic basket and features an outer pocket for napkins and silverware. Fill it with yummy family favorites and don't forget to personalize through the Etsy shop!
28 500-Piece Rainbow Popsicle Puzzle
Galison
amazon.com
$13.27
It may not be 3D, but this 500-piece puzzle is something fun to leave out on the dining room table and work on together a little at a time.
29 TABLETOPICS Family: Questions to Start Great Conversations
TableTopics
amazon.com
$25.00
It can be easy to settle into a conversational routine around the dinner table: How was work/school/[insert other regular topic]. But sometimes it's nice to go a little deeper. This cube of cards contains 135 questions to get you guys talking, designed for the whole family. One example: "Is it more fun to be a parent or a kid?"
30 Cuisinart 2-Quart Automatic Ice Cream Maker
Cuisinart
amazon.com
$65.08
Customize your treats with all your favorite add-ons and ingredients with this easy to use ice cream maker, which also makes fro-yo and sorbet too. Sundae night will never be the same, in a good way.
31 Handmade Pottery Chip n' Dip Bowl
JKCreativeWood
etsy.com
$38.00
Salsa and corn chips, veggies and ranch dip: Whatever you put in this beautiful handmade bowl, the family is certain to gather around.
32 Wall Pops WPE0981 Black Dry Erase Calendar Decal
Wall Pops
amazon.com
$14.99
$11.55 (23% off)
Keeping every family member's schedule straight can be tricky—but this year, cut down on the confusion with this sleek, easy-to-read calendar, which sticks to walls but peels off easily without damaging paint. (Stocking tip: Gift everyone their own specific marker!)
33 Personalized Photo Album
Janneyleather
etsy.com
$42.33
Make memories that will last a lifetime—and then make them easy to revisit with this beautiful album. The leather cover of this beautiful book comes embossed with the phrase "Our Family Adventures" or your own chosen text on the cover. The album comes in various sizes, all of which contain 100 pages for scrapbooking.
34 Instant Pot Duo 60 TEAL 6 Qt 7-in-1 Instant Pot
Instant Pot
amazon.com
$99.99
$71.99 (28% off)
If you haven't gotten on the Instant Pot train yet, then this holiday is officially the perfect time. Everything you would usually put in your crock pot can go into this six-quart beauty. Plus, it can also be used as a steamer, rice maker, for sauteing, to make yogurt, and more!
35 Pictionary Game
Mattel Games
amazon.com
$19.99
$9.99 (50% off)
Another oldie but goodie, this game can be played with kids of different ages and doesn't get any less enjoyable with time. Turn it into a holiday tradition for the whole gang! 
36 Triumph 6-Player Beginner Backyard Croquet Set
Triumph Sports
amazon.com
$39.99
Croquet is great for a range of reasons, among them the fact that it's fairly low-stakes and can be carted around to the park or just enjoyed in the backyard. This six person set comes with wooden mallets, stakes, wire wickets, and balls, all in a lightweight carrying case.
36 Best Gifts for the Whole Family to Enjoy This Holiday, Source:https://www.prevention.com/life/g29746956/unique-gifts-for-family/